The Dakota Access company just used dogs and pepper spray against indigenous activists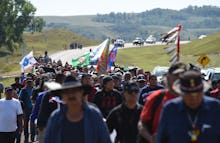 Security guards loosed dogs and pepper spray on the Native American protestors gathered to protest the construction of the Dakota Access Pipeline on Saturday, Democracy Now reports.
Indigenous activists have been resisting the construction of the $3.8 billion crude oil pipeline for months now, saying that it poses a threat of contamination to the nearby Missouri River.
But on Saturday, exclusive video of the scene obtained by Democracy Now shows the protests turning violent, with the Dakota Access Pipeline company unleashing attack dogs on the hundreds of protestors who broke ranks to charge the construction site.
Morton County Sheriff's Office spokeswoman Donnell Preskey said that four of the guards and two of the dogs sustained injuries during the chaos, and added that all had been treated for the injuries, NBC News reports.
Steve Sitting Bear, a spokesman for the tribe, also confirmed to the network that six people had been bitten by the dogs, among them a young child, and that at least 30 had been hit with pepper spray.
A White House petition appealing to the administration of President Barack Obama to stop the pipeline's construction has over 89,000 signatures, shy of the 100,000 needed in order to garner an official response.
In an interview with the Guardian, protestor and Dakota Sioux member Ladonna Allard said that blocking the pipeline's construction was about even more than eliminating an imminent threat to the water supply.
"This is sacred land," Allard said. "This is not about trying to be a protester. I am a mother. My son is buried at the top of that hill. I can't let them build a pipeline by my son's grave."