Brock Turner reportedly "spotted" in backyard of his parents' Ohio home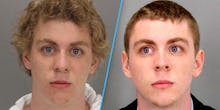 The eagle has landed.
According to CBS, Brock Turner — who needs no introduction, but for those who've slept through the news cycle these past few months, is the 21-year-old man who sexually assaulted an unconscious woman behind a dumpster in January 2015 — is back at his parents' house in Sugarcreek Township in Greene County, Ohio. He was allegedly "spotted" in the backyard on Sunday afternoon, CBS reported.
This means, of course, that he'll be forced to emerge sometime in the next couple of days — per the terms of his sentence, he must report to the Greene County sheriff's department in Xenia, Ohio, for his registration as a Tier III sex offender, within five days of his return home. The so-called Stanford rapist will have to renew that registration every 90 days for the rest of his life. His neighbors will then be notified of his presence by postcard. 
Many of his neighbors will already be well aware of Turner's arrival, though. Angry protesters have been staking out the former Stanford student's house, waving signs advocating the castration of all rapists and, in a few cases, exercising their right to bear arms — Ohio is an open carry state. 
"He's just not welcome," Molly Hardin, one of the Turners' neighbors, previously told CBS. 
Turner was released from the Santa Clara County, California, jail on Friday morning, after serving three months of a six-month sentence. Critics of the punishment are many, and argue that Santa Clara County Superior Court Judge Aaron Persky was far too lenient in sentencing Turner, whom a jury found guilty on three counts of sexual assault. Prosecutors asked for six years behind bars, whereas the maximum prison term for Turner's crime is 14 years.
The decision has provoked widespread outrage; as Greene County sheriff Gene Fischer told WHIO, Turner won't receive special treatment from his officers.
"We're not treating him with kid gloves," Fischer said. "We're going to treat him like every other sex offender that comes through the doors."
In addition to registering as a sex offender, Turner will have to report to his local prison to meet with his probation officer, and will also undergo sex offender treatment.