Obama weighs in on Kaepernick controversy: "He's exercising his constitutional right"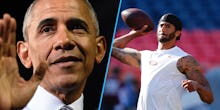 President Barack Obama is currently in China for the Group of 20 economic summit, where things have been a little thorny since his arrival. As such, he hasn't had much time to dwell on football, he told reporters at a press conference in Hangzhou, China on Monday. 
Still, he had some thoughts on the recent controversy San Francisco 49er Colin Kaepernick sparked when he refused to stand for the national anthem.
"My understanding, at least, is that he's exercising his constitutional right to make a statement," Obama said. "I think there's a long history of sports figures doing so. I think there are a lot of ways you can do it."
In a preseason game on Aug. 26, the quarterback remained seated for the singing of the national anthem, explaining to NFL.com that he was protesting police brutality.
"I am not going to stand up to show pride in a flag for a country that oppresses black people and people of color," Kaepernick said. "To me, this is bigger than football and it would be selfish on my part to look the other way."
As Obama noted, Kaepernick's actions aren't unprecedented — in 1996, for example, NBA star Mahmoud Abdul-Rauf declined to stand for the national anthem, calling the flag a "symbol of oppression, of tyranny." 
Nonetheless, Kaepernick's decision infuriated some fans, who took to social media to voice their discontent — one man went so far as to light his Kaepernick jersey on fire while "The Star-Spangled Banner" played in the background. Members of the Santa Clara Police Officer's Association have threatened to boycott games at the 49ers' Levi's Stadium. 
Many people have voiced their support: The Twitterati have taken down those who've publicly criticized Kaepernick, while celebs including John Legend and Stephen Colbert have also taken aim at the controversy. 
Veterans, too, have defended Kaepernick's actions, although Obama said he understood how listening to the quarterback's "deeper concerns" might be difficult for them considering the meaning that the flag holds for them. At the same time, he nodded to the necessity of the conversation Kaepernick started.
"I don't doubt his sincerity, based on what I've heard," Obama said. "I think he cares about some real, legitimate issues that have to be talked about."