Soccer star Megan Rapinoe takes a knee for national anthem in support of Colin Kaepernick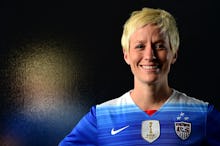 Soccer star Megan Rapinoe is here for San Francisco 49er Colin Kaepernick. 
Going into a game with the Chicago Red Stars on Sunday, Rapinoe — a midfielder for U.S. soccer international and Seattle Reign — took a knee rather than standing for the national anthem. As she told American Soccer Now in a post-game interview, the move was "very intentional."
"It was a little nod to Kaepernick and everything that he's standing for right now," Rapinoe continued. "I think it's actually pretty disgusting the way he was treated and the way that a lot of the media has covered it and made it about something that it absolutely isn't. We need to have a more thoughtful, two-sided conversation about racial issues in this country."
Kaepernick has come under fire in recent days for his refusal to stand for the "Star-Spangled Banner" during a preseason game on Aug. 26. It wasn't the first time the quarterback has done so, but it turned out to be the most high-profile instance. After the game, Kaerpernick told NFL.com he was protesting police brutality. 
"I am not going to stand up to show pride in a flag for a country that oppresses black people and people of color," he said. "To me, this is bigger than football and it would be selfish on my part to look the other way."
While criticism of Kaepernick has been strong, many have defended his right to speak freely and protest peacefully — fans have voiced their support on Twitter, and celebrities have done their best to shut down the controversy. Even President Barack Obama has weighed in, saying that — as far as he could tell — Kaepernick is "exercising his constitutional right."
The 49er is far from the first athlete to take a sports game as an opportunity for quiet protest. In 1996, NBA star Mahmoud Abdul-Rauf declined to stand for the national anthem. He saw the American flag as "a symbol of oppression, of tyranny." More recently, a WNBA team — the Minnesota Lynx — wore shirts displaying their support of the Black Lives Matter movement in the wake of tandem police shootings of two black men, Philando Castile and Alton Sterling. Several other WNBA teams were fined when their players donned similar warm-up jerseys.
In sitting out the national anthem, Rapinoe hoped to further the conversation Kaepernick started. As she told American Soccer Now, she understands where the quarterback is coming from.
"Being a gay American, I know what it means to look at the flag and not have it protect all of your liberties," Rapinoe said. "It was something small that I could do and something that I plan to keep doing in the future and hopefully spark some meaningful conversation around it."