Beyoncé kindly entertains Bill Clinton gate crashing her 35th birthday festival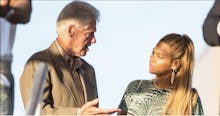 Hillary Clinton's husband, Bill Clinton, celebrated his Beyonceday in style. The political spouse just so happened to run into Beyoncé at the Jay Z-sponsored Budweiser Made in America festival in Philadelphia on Sunday, when he strolled into the VIP tent where the Formation singer was celebrating her 35th birthday. Imagine that!
Photos of their conversation suggest that Beyoncé had not anticipated Bill's coming through, but humored him — probably because she supports Hillary and knows all too well how annoying husbands can be.  
According to the Clinton campaign, Hillary's husband attended the Made in America festival "partially" as a means of "promoting iwillvote.com," which is to say, in an attempt to swing that sweet sweet millennial vote. The campaign did not clarify what his other motivations may have been. It's possible he thought to himself, "Hey, it's a festive and patriotic occasion; maybe there will be balloons." (Bill loves balloons) It's equally possible he did not.
Photos of the Beyoncé-Bill chat quickly went viral, social media playing host to an informal caption contest.
While Bill let his hair down and took selfies with festival goers, Hillary returned to the campaign trail. Beyoncé, meanwhile, will be having her real birthday party (which will reportedly be Soul Train-themed) in New York City on Monday. Bill is probably not invited.