From Chanel to Westwood, 5 times fashion week was about making a political statement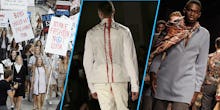 Every fashion week, designers and brands from around the globe, from Kanye West to H&M, strive to put on a headline-generating show. For some, that means having a model spin through the air, or projecting images right onto the models themselves. Designers have literally set stages on fire in hopes of getting people's attention.
While some designers have used their platforms to shock or excite their audiences, other designers have used their platforms to start a conversation about the day's politics.
Over the past few years in particular, designers have started to make fashion statements at their shows that meld with political statements, whether that means writing on a T-shirt or even unfurling a banner after a show.
Here are just five examples of designers making their shows at fashion week about much more than just clothes.
Vivienne Westwood gets real about climate change
The models at Vivienne Westwood's Red Label spring 2013 presentation at London Fashion Week in September 2012 were the epitome of femininity, with their strong brows and faces painted with blue eyeshadow. Their waists were defined. Sometimes even their entire faces were painted a pale pink or yellow.
Although the show could have easily stood as an attempt to comment on feminism, Westwood made it known that what was on her mind that day wasn't the patriarchy or feminine constructs, but planet Earth.
As Vogue noted of the show: "[The clothes] also pointed to a period when consumerism wasn't rampant, and fashion was not so disposable."
And at the end of her show, Westwood made that abundantly clear by wearing a pointed T-shirt and rolling out a banner that read, in big white letters: "Climate revolution."
"Dropping her cloak to reveal the most unflattering pair of large knickers and a T-shirt that stated, 'Climate Revolution,' she further unfurled and held aloft a banner with the aid of two helmeted model helpers that said the same," Vogue reported.
Although Westwood has a long history of political moments, stumping for everything from PETA to Scottish Independence, this was one of her most iconic fashion shows to date.
Chanel stages a feminist rally
For his Spring/Summer 2015 collection, Chanel's creative director, Karl Lagerfeld, decided to unite the models in a feminist rally.
After walking down the Grand Palais in Paris in neat and colorful suits, the models — including Kendall Jenner, Cara Delevingne and Gisele Bündchen — came out for the finale with megaphones and signs that read "history is herstory," "women's rights are more than alright" and "fashion not war."
The show itself faced criticism because Lagerfeld has said some rather offensive, not-so-feminist things about women in the past.
In an 2012 interview, for example, he called Adele "a little too fat." He has also commented that he doesn't like Pippa Middleton's face, as if she ever asked his opinion. So it seemed like he was using feminism for attention or praise. But regardless of his own motives and intentions, the show was a sign of our changing times.
Pyer Moss addresses police brutality
This time last year during New York Fashion Week, Kerby Jean-Raymond, the founder of Pyer Moss, knew that he wanted to send more than just clothes down the runway. He wanted to make a political statement.
Before a single item of clothing came down that runway, he played a 10-minute video that opened with the killing of Walter Scott, an unarmed black man shot by police officers in South Carolina, followed by footage of the black teens who were brutalized by police at a Texas pool and then the final words of Eric Garner: "I can't breathe."
The clothes that followed were laden with symbolism, blood-stained white shoes with the words "I can't breathe" scrawled all around them, and long red lines in the back of jackets, to signify gunshot wounds.
"If I'm going to be the black designer," Jean-Raymond told Mic at the time, "I'm going to tell it my way."
Pyer Moss takes on mental illness
For his next collection, Jean-Raymond aimed to make a political statement once more. While he addressed police brutality in September, by next season's show in February at New York Fashion Week, he was ready to talk about mental illness.
For his autumn/winter presentation at New York Fashion Week in February, Jean-Raymond teamed up with musician Erykah Badu to yet again put on a show with an immediately recognizable message.
Models walked down the runway with sweatshirts that read, "Suffer No More," and pins that looked like smiley faces or had the names of antidepressants like Zoloft. In the hands of one model was a sign that referenced the suicide note of Black Lives Matter activist MarShawn McCarrel II.
"Normal bouts of depression are very common with all of us," Badu said in an interview with Mic at the time. "And we don't really discuss or talk about it. We just kind of numb it some kind of way. I haven't personally had a clinical depression but, I mean, it's a shitty world sometimes. Especially if we don't put down the things that numb us. And really start to have a dialogue. A conversation about how we really feel about things."
Asylum-seekers walk the catwalk in Italy in 2016
While designers like Jean-Raymond and Chanel have used models to get their political point across, one show at Pitti Uomo, which is Italy's answer to men's fashion week, cast models that were the political statements themselves. During a show that celebrated four different African designers, asylum-seekers walked down the runway.
The names of the models were not released, for obvious legal reasons, but their presence turned the runway from being all about fashion to being about Italy's current refugee crisis. According to Reuters, more than 140,000 migrants arrived in Italy from just North Africa in 2015.
"As we are in Italy and have a huge refugee crisis, we also want to show that migrants are a resource," the founder of the Ethical Fashion Initiative told Agence France-Presse, Mic reported at the time."We are setting up a training center for refugees and migrants in Italy to work in the industry of fashion and be enabled to go back home and set up their own businesses there."
For at least one designer that was showing during this particular show, having the asylum-seekers walk in their clothes was important, because he wanted to humanize them.
"If I take an asylum-seeker and put them in a suit, people perceive them in a certain way, which hopefully allows them to think of them as an equal human being, not as someone [who is] less than them," Walé Oyéjidé, the designer behind Ikiré Jones, told Agence France-Presse.
Although fashion week season is a time when attention is mainly on clothing and trends and models and whichever celebrities sit front row, these designers made sure that the day's most pressing political issues weren't forgotten.