Kanye West invites only "multiracial women" to Yeezy Season 4 casting, outrage ensues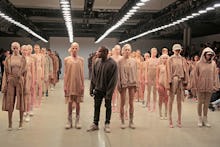 In an unusual turn of pop cultural events, Kanye West has upset people on Twitter. 
On Saturday, the rapper/designer tweeted a casting call for his upcoming Yeezy Season 4 show, inviting only "multiracial women" to audition. "No makeup," he requested, "Please come as you are."
While West typically does a far better job of hiring diverse models to walk his runways than most in the industry, critics on Twitter slammed him for exclusivity on this round. 
"They want black features but not black girls," one user wrote.
Others agreed, arguing that West had simply found "another way [of] saying 'only light skinned women please'" and that, "In a Kanye West world there is no place for black women."
Fashion is a heavily white-washed industry, and while the spring 2016 season may have been the most racially diverse yet, there's still a huge lack of diversity in casting — black models made up 8.3% of the SS16 ad campaigns, while 21.8% of models were people of color. The Fall 2016 shows during New York City fashion week fared slightly better: 9.2% of models were black, and 31.9% of models were people of color. 
But the bottom line is, the majority of working models are white, which is why it rankled when some Twitter users took West's casting call as an opportunity to complain about reverse racism.  
While some white people proceeded to make the controversy all about white people, others highlighted the problematic nature of requiring people to prove their ancestry.
The Yeezey Season 4 show is slated for Wednesday at the opening of New York Fashion Week — doubtless, there will be more drama ahead.