Ashley Nell Tipton of 'Project Runway' debuts her plus-size fashion line at JCPenney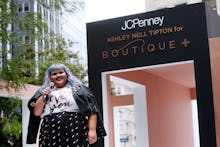 This time last year, designer Ashley Nell Tipton was receiving praise for being the first designer specializing in plus-size clothing to really make it on Project Runway. A few months later, she ended up winning the whole damn thing. 
Now, to further her trailblazing ways, she's launching her first plus-size clothing collection at JCPenney. To celebrate the momentous occasion, she hosted a series of outdoor fashion shows in New York City. 
On Tuesday at Greeley Square in downtown NYC, Tipton revealed her sparkly, retro-inspired collection, which is formally called Ashley Nell Tipton for Boutique+, in three separate free and open-to-the-public runway shows. 
"I'm super excited to be collaborating with JCPenney to create my first-ever capsule collection for that plus-size woman who needs that confidence and wants to be fabulous every day," Tipton said to the crowd. 
It marked the first time that Tipton has sent models in her designs down a runway since Project Runway. 
"It feels amazing," Tipton said in an interview with Mic. "I just think it's crazy. It blows me away that I am here once again. Because honestly it's very touching to me to be able to showcase in New York Fashion Week and to be able to do it again and to have a major retailer behind me to allow me to put my voice out there and my designs and for them to fully believe in me." 
The models who walked down Tipton's runway were of various sizes and included some of the most outspoken women within the plus-size community, like models Tess Holliday and Margie Plus, and writer/blogger Liz Black. 
"We're setting the trends for everyone else," Tipton said. "We have to make people believe in what we're doing and we have to have the confidence, and I think we can all work together to inspire each other." 
Tipton is one of the only designers out there designing for plus-size women, while also being a plus-size woman herself. As a woman who has shopped in plus-size departments her whole life, she knows exactly what's lacking in the market, and also what women who are a size 12 or above actually want from their clothing. 
"It's all coming from a good place," Tipton said. "We just want clothing to be able to express who we are just like everyone else out here in this world. Just because of our size, we should not be defined. We're just like everyone else."
Tipton's collection is 19 pieces in total, ranges in price from $15.99 to $74.99 and includes pieces like a sparkly black bomber jacket and crop tops. 
Although plus-size clothing has a reputation for being unflattering and uncool, Tipton is attempting to turn that idea on its head, sending models down the runway in leather jackets, flirty patterns and even athleisure.
"I wish [more designers] studied our bodies and really knew how our clothing works versus straight sizes and how much they need to pay attention to fit and quality and fabric and knowing that it's breathable," Tipton said. "We want to be cute but we also want to be comfortable. If this is something that you want to do, it's something that you have to be passionate about."
Tipton's collection comes at a major turning point for JCPenney. This June, JCPenney launched a campaign called #HereIAm to celebrate its new plus-size boutique, Boutique+. In the campaign's first video, women like Tipton and GabiFresh, a plus-size blogger and designer, and musician Mary Lambert spoke out about the adversity they had faced as plus-size women. Between that campaign and now Tipton's capsule collection, which is a part of the retailer's new boutique and will be sold in 500 stores nationwide, JCPenney is showing a strong shift to being highly attentive to its plus-size customers. 
"The way that I came in and all the passion that they saw that I had, I think they wanted to do way more than just create plus-size clothing," Tipton said of her partnership with the retailer. "I think it was me telling them that women should have the confidence and the love to be able to put on clothing and feel good."
At the end of the day for Tipton, her ultimate goal as a designer is to have as many people — women, men, everyone — experience and love her clothing. 
"My goal is to be able to have other women wear my clothing. I just want to make women or whatever gender it is happy," Tipton said. 
"In the future I would love to be able to create a unisex line or eventually go into men's plus-size clothing, because that has been a huge passion of mine," she continued. "I used to wear men's clothing when I was younger and couldn't find sizes." 
At the pace Tipton's going, we don't see much getting in her way of her dreams from here on out.