Austin Michael Brown, charged with rape, says woman said "no," but it wasn't a "hard no"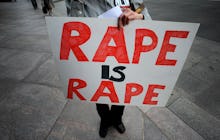 In today's edition of Terrible Excuses for Rape, an Idaho man facing a felony rape charge told investigators that his alleged victim did in fact say "no," but it wasn't a "hard no." Whatever that means. 
Twenty-two-year-old Austin Michael Brown of Nampa, Idaho, was arrested and charged Wednesday for the alleged June incident, according to KTVB. According to court documents obtained by the station, the woman told police that after arriving to Brown's home, he carried her upstairs, forcibly removed her clothing and raped her. The woman told police she tried to fight Brown off and told him to stop, to no avail, according to the documents. 
Brown initially denied having sex with the woman, KTVB reported, but changed his tune, saying he thought the act was consensual because the woman didn't give him a "hard no."
Brown's excuse for his behavior is just another example of rape culture in action, where victims of sexual assault are somehow blamed for their own assault.
For those still confused on the simple concept of consent, no means no. Only yes means yes. The absence of a no still doesn't mean yes and consent can be taken back.
Brown is being held on $75,000 bond and is due back in court Sept. 21.