Ann Coulter got eviscerated in Rob Lowe's Comedy Central roast, and Twitter is loving it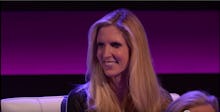 By name it was Rob Lowe's roast on Comedy Central, but the harshest insults from the special, which premiered on the network Monday, were directed at conservative pundit Ann Coulter. 
The guests — ranging from comedians like Jimmy Carr and "Roastmaster" Jeff Ross, to Jewel and former NFL star Peyton Manning — took shots at Coulter, many of which were highlighted in Entertainment Weekly's roundup of the show's best insults. 
Jewel's was particularly savage.
When it was finally Coulter's turn to take the stage, she failed to land jokes on her fellow contestants or Hillary Clinton. The audience received it with a tepid response, mixed with a few boos. Of course, Coulter made sure that her latest book, In Trump We Trust, was perched on the podium.  
However, despite promoting the book, Coulter told the Hollywood Reporter in August that she had "no idea" why she was invited to the roast. The Twitterverse was similarly confused, with some highlighting how uncomfortable and out of place the conservative personality was on stage — though many did delight in her discomfort. 
To get an idea of what transpired, you can check out this clip of Jewel roasting Coulter below: