Sia's "The Greatest" music video is a seeming tribute to the Orlando shooting victims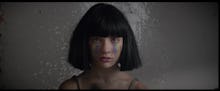 As promised, Sia released her music video for her latest single "The Greatest," featuring Kendrick Lamar, Monday night. The visual once again pairs Sia's music with 13-year-old model and dancer Maddie Ziegler, after the duo's previous collaborations on Sia's "Cheap Thrills," "Chandelier" and "Elastic Heart." From the very first shots, it seems clear the visual is aiming to plumb far deeper than a simple dance video. 
It starts with Ziegler moving her hands down her cheeks to paint a rainbow on her face, before weeping and screaming at a pile of prone bodies inside a cell. Users on Twitter began racing to try to unpack the symbolism. Many concluded that the video seems to be a tribute to the victims of the Orlando shooting at the gay nightclub, Pulse.  
As some eagled-eyed viewers have asserted, the video features 49 dancers — the same number of deaths from the club shooting. Moreover, the video ends with the group dancing together in a room riddled with bullet holes before they all fall down motionless at the end of the track. 
Twitter was awash with praise for the visual and its stunning finish.
Mic has reached out to Sia's team for comment on the Orlando symbolism, and will update this story as it develops. 
Watch the music video for "The Greatest" below: