Playmate Dani Mathers might face jail time after body-shaming a stranger on Snapchat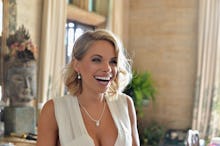 In July, Playboy Playmate Dani Mathers did a very Mean Girls thing and body shamed a naked stranger at her gym on Snapchat. Now, her cyberbullying is coming back to bite her: Mathers could face jail time for her actions.
According to TMZ, police located the woman Mathers photographed while she was changing in the locker room of an L.A. Fitness. The woman is in her seventies and, according to the gossip website, eager "to help bring Mathers to justice." 
The content in question is a Snapchat of a naked stranger in the locker room, alongside a selfie of the model with her hand over her mouth. The caption reads, "If I can't unsee this then you can't either." Authorities allegedly plan to "make an example" of the 2015 Playmate of the Year and want to charge her with dissemination of private images, a misdemeanor that carries a six-month prison sentence. 
In the face of fierce backlash from all corners of the internet, Mathers apologized, both on Snapchat and Twitter, before taking a break from social media altogether. 
"That was absolutely wrong and not what I meant to do," Mathers said in a Snapchat apology video, saying the snap was not meant to be posted publicly. "I have chosen to do what I do for a living because I love the female body and I know that body shaming is wrong and that's not what I'm about, that's not the type of person I am."
Mathers lost her job with Los Angeles' KLOS radio station, while L.A. Fitness banned her from all of its locations, and notified the LAPD, whose sexual assault division quickly launched an investigation.
"We hope the rumor is not true," Tom Mesereau, Mathers' lawyer, told People about possibility of prison time for his client. "Dani Mathers never tried to hurt anyone at any time and certainly never tried to break any law." 
The development, however, would not seem to be a rumor, as People confirmed TMZ's report.