Gretchen Carlson just got $20 million settlement from Fox in her sexual harassment lawsuit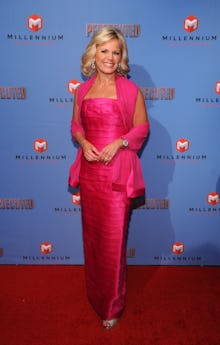 The much-publicized sexual harassment lawsuit filed by erstwhile Fox anchor Gretchen Carlson against the news channel's co-founder, since-ousted Roger Ailes, has just been settled.
"Now the company has agreed, on behalf of Ailes, to settle Carlson's suit for a stunning $20 million, according to three people familiar with the settlement," Vanity Fair reported Tuesday morning. "To reinforce their seriousness about creating a new culture in a post-Ailes world, the company is expected to offer Carlson a public apology as part of the settlement."
The controversy began when Carlson's contract was not renewed, in spite of her show's success; she was subsequently terminated on June 23. Carlson contended this was because she thwarted Ailes' sexual advances. 
"Her complaint alleges that the firing was the ultimate retaliation against her after she rebuffed Mr. Ailes' sexual advances and also tried to challenge what she felt was unequal treatment of her in the newsroom by some of her male colleagues," a statement tweeted by CNN reporter Tom Kludt on July 6, the day Carlson filed her civil action complaint, said.
Within a matter of days, six other women came forward, alleging to have also been sexually harassed by Ailes, spanning over decades. More women have since emerged. 
"The company, according to two people familiar with the discussions, has also reached settlement agreements with two other women," Vanity Fair added in a parenthetical Tuesday.
News of the settlement comes four days after New York magazine published a damning exposé of Ailes' reign at Fox and what the women's allegations have revealed.
"[W]hat they have exposed is both a culture of misogyny and one of corruption and surveillance, smear campaigns and hush money, with implications reaching far wider than one disturbed man at the top," the exposé explained. 
The news empire is no doubt keen to put this ordeal behind it and amend its damaged reputation. Avoiding a public, lengthy, explicit court battle brings the organization one step closer.