iPhone 7 and 7 Plus preview: What to expect from this week's Apple announcement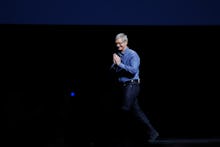 We are mere hours away from Apple's keynote event, during which the iPhone 7 (and maybe the iPhone 7 Plus) will likely be revealed. Don't get too excited, though, because this year's new devices are expected to earn a "meh" from Apple fans. 
Apple is expected to unveil the iPhone 7 and iPhone 7 Plus on Wednesday, and Credit Suisse analyst Kulbinder Garcha said that the next-generation phones will feature a "modest upgrade," with a survey indicating that most iPhone owners aren't likely to buy the iPhone 7 if it isn't significantly redesigned. 
What to expect: While the iPhone 7 and iPhone 7 Plus are anticipated to look awfully similar to their predecessors in terms of hardware design, the guts will are speculated to see an upgrade — a juicier battery, a dual-lens camera, a 256GB version (skipping the 16GB version altogether), and waterproof capabilities are all expected, according to Macworld. 
The iPhone 7 devices are also rumored to get rid of the clickable home button for a pressure-sensitive one, similar to the MacBook's Force Touch Trackpad. Because of the flat design of this haptic feedback home button, the iPhone 7 would be more waterproof since it would have fewer access points into the inside of the phone compared to the physical button of the current iPhone models. The next-gen phones may also get rid of the antenna lines that run down the back of the device, making them visible only along the top and bottom edges, 9to5Mac reported. Sleek. 
You can also probably kiss that 3.5 millimeter hole goodbye — the iPhone 7 and 7 Plus will likely ditch the headphone jack, which could mean a slightly thinner device. It's a contentious move that could cost Apple some iPhone owner upgrades. Or as writer and developer Owen Thomas eloquently put it, "You can pry my headphone jack from my cold, dead hands."
Cold and lifeless — sounds like a new iPhone fresh out of the box.