Brock Turner just registered as a sex offender. Here's what that means for him.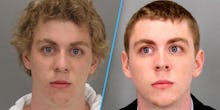 Brock Turner registered as a sex offender on Tuesday morning at the Greene County Sheriff's Office in Xenia, Ohio, as part of his sentence for having sexually assaulted an unconscious woman behind a dumpster in January 2015. 
While much of the world  — including the armed protesters that staked out his parents' Sugarcreek, Ohio home in anticipation of Turner's arrival — seems to agree that the punishment didn't begin to fit the crime, having a sex offense on his record will follow him around for the rest of his life.
In March, Turner was found guilty of three sexual assault charges: assault with intent to commit rape, sexually penetrating an unconscious person with a foreign object and sexually penetrating an intoxicated person with a foreign object. Prosecutors pushed for a six-year prison sentence, although the maximum would have been much longer: 14 years. 
Although Turner received only a six-month sentence (and although he was released Friday, having served just three months behind bars), he still had to register as a Tier III sex offender, the most serious of the three categories laid out under the Sex Offender Registration and Notification Act (SORNA). 
Tier III sex offenses involve aggravated sexual abuse, kidnapping a minor and/or abusive sexual contact against a minor. As a Tier III sex offender, he will be required to register with local law enforcement, in person, every three months for life, and every time he moves to a new jurisdiction. 
Once a sex offender registers with the authorities, they alert the community per Megan's Law, 1996 legislation enacted at the federal level after a convicted sex offender raped and murdered 7-year-old Megan Kanka. Each state has its own Megan's Law, and according to the Ohio Association of Realtors, Ohio's obligates the sheriff to notify the sex offender's neighbors, in writing, within five days of registration. Neighbors include anyone living within 1,000 feet of the offender's home. As such, the Greene County Sheriff's office will be sending out postcards to Turner's neighbors. 
The sheriff has seven days to notify — again, in writing — several organizations that work with children within the sex offender's community. According to the OAR, this includes:
1. Executive director of the public children services agency
The Greene County sheriff's office will have to disclose Turner's name, his home address and/or work address, what he did to land himself in the Tier III sex offender category and his photo — all of which will become a matter of public record and be searchable on the internet. 
Sex offenders aren't necessarily bound by law to tell prospective employers about their status, although a routine background check should turn up a new hire's criminal record. It seems inconceivable, though, that Turner could find a hiring manager who wasn't already familiar with his reputation as the "Stanford rapist." It seems safe to assume that the case will significantly narrow his professional opportunities.
On top of sex offender registration, Turner is on probation for three years, which he'll serve out while living at his parents' house in Sugarcreek Township, Ohio. During that time, he'll undergo court-mandated drug and alcohol treatment, and also be in sex offender treatment for between one and three years, in which he'll likely learn about abusive behaviors and taking responsibility for his actions. 
Considering that Turner has, thus far, blamed alcohol for his attempt to rape a woman while she was passed out and largely glossed over his own role in the assault he committed, lessons in accountability seem appropriate.