Idaho bus driver Mary Black pours water on Latino student, demands he speak English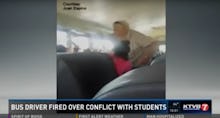 An Idaho bus driver is looking through the classifieds for a new job. Northside Bus Company fired Mary Black after she poured water on a student during a confrontation caught on camera, KTVB reports. KTVB said the company declined to offer further details because it's a "personnel issue." 
In the video, bus driver Black pours water on a student and then demands the student speak to her in English. 
"I don't understand Spanish," Black says to eighth grader Miguel Martinez in the video, shot by Jerome High School freshman Brayan Alvarez and posted by family friend Juan Espino. "I'm not going to learn it. I live in America and it's an English-speaking country. So if you want to speak to me, speak to me in English." 
Alverez told KTVB the incident occurred after Black thought Martinez threw a water bottle at another student. 
"She tried to take his phone away and when she didn't get to do that, she just grabbed the water bottle and started getting him wet," Alverez told KTVB.
Espino told KTVB that Black has previously told students they were not allowed to speak Spanish on the bus. 
According to Espino, he contacted Northside Bus Company, who said they'd review the bus's tape. However, Espino says the company said the tape showed no evidence of the altercation. 
"When I talked to one of the other kids, he told me that when that took place the driver would turn, when something like that happened, the driver would turn the cameras off," Espino told KTVB.
Northside Bus Company did not immediately return Mic's request for comment.