11 delicious recipes to make with your spiralizer that don't use zucchini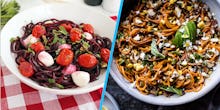 Congrats, you finally bought a spiralizer! Sick of zucchini after the first twenty twists? Us too. 
While zoodles are everywhere, there is so much more to do with your spiralizer than disguise a green vegetable as a noodle. Break out the sweet potatoes, beets, carrots and more — it's their turn to be twisted into recipe brilliance.
Here's what to make with your spiralizer when another zucchini just won't cut it. 
1. Basil Sweet Potato Noodle, Feta and Sweet Corn Miso Carbonara
Meet your new favorite use for your spiralizer: sweet potatoes. This pasta-like dish is hugely creamy, flavorful and may make you forget about spaghetti altogether. Maybe. Get the recipe here.
2. Sweet Potato Curly Fries
Having homemade fries is as easy as spiralizing a sweet potato, soaking your spirals and frying them up. Get the recipe here.
3. Asian Cucumber Noodle Salad
Skip the actual noodles for this spiralized cucumber salad. The crispness in this no-cook dish is seriously satisfying. Get the recipe here.
4. Spiralized Refrigerator Quick Dill Pickles
Eager to pickle in a hurry? Break out the spiralizer! Warning: you may be permanently converted from pickle spears.  Get the recipe here.
5. Stir-fried Carrot Noodles with Chicken
Sub out your weeknight lo mein order for a healthy dose of stir-fried carrot noodles. Get the recipe here. 
6. Chipotle Sweet Potato Noodle Salad
Homemade chipotle-lime dressing gives this spiralized sweet potato salad an extra kick. Roasted corn adds another level of texture! Get the recipe here.
7. Spiralized Apple and Cabbage Slaw
This light and fresh side dish pairs well with pretty much any grilled meat — and it's easy to make! Get the recipe here.
8. Spiralized Ratatouille 
Okay, so there is zucchini in here (leave it out if you've totally given up on zucchini), but you'll also spiralize bell peppers, onion and squash for this dressed-up ratatouille. Get the recipe here.
9. Spiralized Garlic Sriracha Hash Browns
America can stop grating with this new breakfast invention that adds some spiralizing to your morning meal. Get the recipe here.
10. Caprese Beet Noodle Pasta
You'll never look at beet salad the same way again after turning regular old beets into a delicious pasta dish. You've been warned. Get the recipe here.
11. Spiralized Apple Crumble
Dessert just got interesting with this baked treat made almost entirely from spiralized apples. Get the recipe here.