Outkast may be working on a new album, Gucci Mane reveals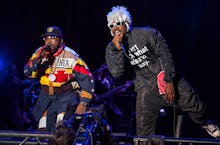 Sept 6, 2016, 7:36 p.m.: A spokesperson for André 3000 sent Mic the following statement to clarify this rumor is unfortunately untrue: "It is unfortunate that false headlines have once again been generated, but there is no Outkast album in the works."
Mic's original story on the rumored Outkast album appears below.
It has been nearly 13 years since the world heard a proper, non-soundtrack Outkast album. For a long time, it seemed we'd never see another. André 3000 left Outkast's 2014 reunion tour, feeling like a "sell-out," adding in another New York Times interview: "I don't want to be a 40-year-old rapper." Still, he and Big Boi have both remained active in the scene, but they've shown no interest in working together. 
However, that may have all been part of the act. They may have been doing so in secret, as Gucci Mane let slip over the holiday weekend.
Bragging about his recent collaborations in a new Snapchat post, Gucci Mane let out that he'd been in the studio with the East Point duo. "I just did a record for Outkast," he said. "I just did a record for Wayne. I just did a record for..." There's no mincing his words: Gucci Mane and Outkast have a new track in the vault.
The snap quickly spread throughout Twitter and while fans tried to keep it together, many were unsuccessful. 
All of this is still a rumor of course. A rep for André 3000 told Pitchfork there's "no Outkast news to report." Worst case scenario, Gucci Mane hopped on a new Big Boi solo track, like he did on 2009's "Shine Blockas," with an additional André 3000 feature.
Both Big Boi and André 3000 have remained active in music since putting Outkast aside, with the former cutting two solo albums and a collaborative project with Phantogram in recent memory. André has remained more aloof, popping his head into the game with mind-blowing features every so often, before receding back into the shadows. Most recently, the rapper popped up on Travis Scott's Birds in the Trap. 
"I was gonna have [André 3000] narrate the album but he ended up doing a verse and I was surprised," Scott explained. "I ain't even know."
André also appeared on Frank Ocean's "Solo (Reprise)" off Blonde, the only significant contribution from an outside artist. "After 20 years in," he rapped. "I'm so naive/ I was under the impression/ That everyone wrote they own verses/ It's comin' back different and, yeah, that shit hurts me/ I'm hummin' and whistlin' to those not deserving/ I've stumbled and lived every word/ Was I working just way too hard?"
The lines were widely interpreted as being a shot at Drake, but André could have a much larger swatch of the game in his sights. If he's coming back with a new Outkast album, hip-hop better prepare itself.