15 brunch recipes that'll feed a big, hungry crowd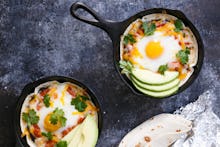 Brunch parties are the new dinner parties. But that doesn't mean you have to spend your morning celebration bent over the stove serving up sunny-side eggs to order. You're not staffing a one person diner! 
Enjoy your brunch party by making one or more of these dishes that serve big groups so you can spend your brunch the way it's meant to be spent: Socializing. 
Have your friends bring over the orange juice and bubbly and let them leave the cooking up to you with these easy large format brunch recipes for a big group. 
1. Breakfast Enchilada Bake
Starting a morning with enchiladas is brilliant, especially when they're stuffed with egg and sausage and coated in melted cheese, like these easy-to-make tortilla creations that serve 8. Get the recipe here.
2. Skillet Huevos Rancheros
Making eggs for a group is so much easier when you can cook all the eggs at once. Double this single-skillet recipe to serve 8 or more brunchers your tasty Tex-Mex morning meal. Get the recipe here.
3. Baked French Toast Casserole with Praline Topping
Dipping and frying up French toast for a group is kind of a drag. Instead, luxuriate in extra PJ time by prepping this French toast the night before and popping it in the oven the next morning. Get the recipe here. 
4. Caramel Apple Cinnamon Roll Bake
Literally as easy as measuring and chopping a few ingredients and tossing them in a pan, this baked breakfast serves 8 and smells seriously ah-mazing as it bakes — perfect for guests! Get the recipe here.
5. Breakfast Hash Brown Cups
Large format brunches feel slightly more intimate when everyone gets a special single-serving dish. These hash brown cups serve 12 and can be easily prepared in advance. Get the recipe here.
6. Roasted Beet, Baby Kale and Brie Quiche
Quiche is an obvious group brunch dish, but class it up with this brie and beets version that's not only super delicious but also healthier than your standard bacon and cheese egg pie. Get the recipe here.
7. Gingersnap Breakfast Risotto
Risotto for breakfast? Yes please. This big batch recipe is a one-pot solution for a group brunch, and experienced risotto chefs and get creative with morning risotto toppings. Get the recipe here. 
8. Peach and Blueberry Dutch Baby
Skip the flipping for a crowd and make on big crowd-pleasing pancake, like this fruity Dutch baby. Get the recipe here.
9. Cinnamon Crunch Bagels
Impress your brunch crew with sweet homemade bagels. Store-bought cream cheese is fine. Get the recipe here.
10. Coconut Tapioca Pudding with Melon Ice
A big batch of this tapioca pudding can easily be split up into small servings as a brunch appetizer or side. Top with homemade fruit ice or any seasonal combination of sliced fruit and berries. Get the recipe here.
11. Strawberry Ravioli with Balsamic and Basil
This sweetened up pasta dish is a brunch showstopper. Your brunch party will need its own hashtag. Get the recipe here.
12. Bacon and Egg Breakfast Poutine
Five minutes of prep and less than an hour of cook time gets you an indulgent, gravy-soaked fries dish that feeds a crowd. Get the recipe here.
13. Creamy Spinach and Potato Breakfast Casserole
Ground turkey adds lean protein to this big batch brunch recipe that's just healthy enough to dig into after a Sunday morning group workout class. Get the recipe here.
14. Baby Spinach Frittata with Sweet Potato Hash Crust
This layered frittata-quiche hybrid looks impressive enough to be off the menu at your trendy neighborhood brunch spot. Gluten-free and vegetarian, this egg dish is a good go-to for a crowd. Get the recipe here.
15. Amaranth Porridge with Roasted Pears
In case you weren't up on the trend, porridge is cool again. Cook up a big batch of this ancient grain porridge and let guests customize their individual bowls to make it just right. Get the recipe here.