13 cheap and brilliant recipes that'll make you want breakfast for dinner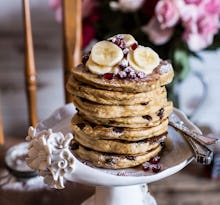 "Thou shalt hold no meal higher than breakfast," chef John Currence of Mississippi's Big Bad Breakfast commands in his new cookbook Big Bad Breakfast: The Most Important Book of the Day. 
Those who rush out the door most mornings with a granola bar or are just simply unsatisfied with just one breakfast a day understand the importance of breakfast for dinner. Both sweet and savory dishes double as morning meals and day-end feasts, because as all breakfast lovers know, you can never have too much breakfast. 
These cheap and brilliant recipes are a great way to double your breakfast intake, even after the sun sets. Just keep in mind another one of Currence's breakfast commandments: Thou shalt slather with butter. YES. 
Shakshouka
This spicy, savory Middle Eastern breakfast dish of poached eggs in a spicy tomato sauce easily translates from breakfast to dinner with the addition of some crusty bread, couscous or over whatever grain you choose. Get the recipe here.
Sweet potato and mozzarella egg skillet
Made with three cheap grocery store ingredients, this skillet is quick and easy to make for a cheesy dinner dish. Get the recipe here.
Savory salami, cheese and herb waffles
Make like Leslie Knope and treat yourself to waffles for dinner. This savory recipe uses cured meat, herbs and cheese in the cornmeal batter so you're basically getting all your food groups in a single waffle. Throw some leafy salad on the side. Or not. Get the recipe here.
Bacon mushroom spinach frittata 
Made of veggies and just enough bacon to feel like breakfast, this egg-based dish has enough protein to qualify as dinner. And you'll probably even have leftovers for breakfast! Get the recipe here.
Ricotta chocolate-chip banana and chia pancakes
If you're feeling pancakes for dinner, at least go for this variety with cheese and added chia seeds, for health, of course. Get the recipe here.
_____________________________________________
Read more: 
Baked eggs in stuffed peppers
The perfect mash-up of a traditional dinner dish enhanced by eggs, make this your go-to breakfast for dinner solution. Get the recipe here.
Za'atar and labneh breakfast panzanella
This breakfast salad not-so-secretly becomes a dinner salad when you prepare this recipe for one for your evening meal. Savory Middle Eastern flavors amp up the egg in this quick dinner you can throw together on a busy night. Get the recipe here.
Savory bread pudding with ham, cheese and caramelized onions 
Think hearty dinner sandwich, deconstructed and breakfast-ified in this baked dish, easily reheatable for any meal of the day. Get the recipe here.
Chai spiced black rice pudding
If you were going to have rice for dinner, why not go the pudding route? Add some extra nuts to this dessert-like creation for added protein. Get the recipe here.
Bacon and egg breakfast ramen
Skip Kylie Jenner's ramen recipe and go for this brunched-up noodle dish. Get the recipe here.
Zucchini summer skillet with poached eggs
This vegetable-based breakfast is probably healthier than many of your other dinners — but it has just enough bacon to make it feel indulgent. Topped with an egg and served with brown butter toast, this morning-inspired meal is a great wrap to a long day. Get the recipe here.
Savory oatmeal with garlicky kale
This oatmeal-salad hybrid is a super cozy solution to breakfast for dinner. Plus, it has an egg on top! Get the recipe here.
Tater tot breakfast pizza
Foods you eat for dinner: Pizza, tater tots. This breakfast pizza is obviously a great dinner option! Get the recipe here.