The latest 'Walking Dead' trailer might have crossed one name of off Negan's victim list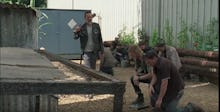 It's safe to say AMC is looking to keep Negan's victim from the season six finale a secret, if the reports that the series filmed several takes of different characters being clubbed to death are legitimate. This presents a challenge to the passionate fanbase looking to whittle down the list of potential victims, sans Rick and Carl (c'mon, you know they're not killing off the main character or his kid; this isn't Game of Thrones). 
(Editor's note: Potential spoilers for past and future seasons of Walking Dead ahead). 
However, the latest trailer for the upcoming season might have slipped up, per the observant gaze of Reddit. For one of the show's promos — shared on Twitter Monday — the 30-second clip mostly teases Negan's rule, but at the 21-second mark, Redditor EccentricMeat points out we see Abraham underneath a hungry zombie. 
If that's the case, then surely Abraham isn't going to be Negan's bloody victim — after all, the Negan sequence takes place at night, and this zombie attack is happening during the day. This slip-up would be especially indicting when you consider that, among the several that characters Negan could've killed, many predicted that Abraham would eventually be revealed as the victim. 
So, did fans crack some part of the Negan cliffhanger case? Unfortunately, it seems unlikely. 
While the screengrab does bear some resemblance to Abraham, the unknown character appears to have reddish, scarred skin, which points to Negan's lackey, Dwight — television's most striking scarred figure since the Hound. 
If neither, it could also be a newly introduced character from another community in The Walking Dead universe that's coming to season seven, The Kingdom — or simply another member of Negan's crew. 
Michael Cudlitz, who plays Abraham on the series, hasn't helped the case for his character's mortality, either: He's been spotted with his natural blonde hair instead of Abraham's signature red hair, and spoiler-y Walking Dead fan sites have reported that Cudlitz was only on set for the season premiere. Though like any reports from fan sites, they should be taken with a grain of salt. 
So Abraham's fate is still quite murky ahead of the premiere. But fans should take some solace in the fact that the aforementioned Dwight has been highlighted in promos wearing Daryl's signature motorcycle jacket and riding his bike. If the show's really bound to such secrecy, they wouldn't spoil Daryl's death months after the fact. He can almost certainly be crossed off the list. 
Abraham, like many cast members, however, is still on the chopping block. Or more fittingly, up to bat.