How to download iOS 10 — and the coolest features you need to know about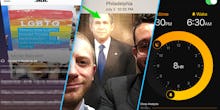 In June, Apple announced that iOS 10, the next mobile operating system for the iPhone and iPad, would be the "biggest release ever" for iOS. On Wednesday, at Apple's "iPhone 7" September keynote address, we learned when we can finally download it: Sept. 13.
While you wait, back up your phone. Got it? Good. That's one potential disaster averted. There's another potential issue users could face when trying to install iOS 10: So many people will be downloading it, there will likely be errors and delays; the process itself may be faster and less frustrating for those who wait a few hours before downloading the update.
What to expect: iOS 10 has been available to anyone who wants to beta test it, which means we're already familiar with its new features. There are big updates on their way for Messages, Photos, Maps, Siri, HomeKit, the lock screen and many more.
Messages
The biggest changes are coming to the iPhone and iPad's Messages app. Apple has apparently cribbed a lot of its new texting options from Facebook's chat app, Messenger, and the result is a more visual and engaging experience.
Invisible ink gives texts a foggy screen your partner can wipe to reveal. There are stickers, sketches, GIF search and even a heartbeat you can send. Emoji texts are extra large; messages like "Happy birthday!" arrive with animated balloons. You can also easily select or snap a photo inside the Messages screen. 
The predictive keyboard has been updated. You can type in two languages at once and get predictive phrases in the keyboard. Messages also has emoji recommendations — a fun feature that'll save you time spent hunting for the perfect punctuation.
Photos
Photos actually became useful when the app merged with iPhoto and let you sync your photo library across devices. Now it's lovely — all your photos can live in the cloud, accessible via your mobile library. This iteration of Photos helps you organize memories into "faces" and "places": It detects people commonly featured in your pics and asks you to name them so it can create cute little slideshows.  
Siri
Basically, the iOS 10 Siri update lets you tell more apps to do stuff. You can use Square Cash to send money, post a LinkedIn message, message a friend on WhatsApp or WeChat, find a video on YouTube and even hail a car — all through voice commands. Siri also lets you control your smart home with HomeKit.
Everything else
I can't say enough good things about the Bedtime app, which charts and regulates your sleep. It also wakes you up with a gentle crescendo of piano, like you accidentally nodded off during a Billy Joel ballad.
Raise to wake is a nice little update. You no longer have to press the home button to see your notifications — just lift the phone to your face to read 'em. The notifications themselves are better: From the lock screen, swipe to the right, then 3-D touch the notifications to see a preview or select options for how to respond. Or hit the "Clear" button to X out of any notifications you're done with.
Maps has an update, too. You can make a reservation at a restaurant with OpenTable. There's also built-in Uber support.
What else? iTunes has lyrics now. (So does Spotify.) You can finally delete apps like Stocks and Find Friends. Oh yeah, and you can browse your Safari tabs on mobile (if you ever decide to switch from Chrome).
All in all, iOS 10 is a satisfying update from iOS 9. When you buy the iPhone 7 and get bored with its disappointing set of new features, the operating system will give you plenty of fun things to play with.