New Apple phones will be called the iPhone 7 and iPhone 7 Plus, according to alleged leak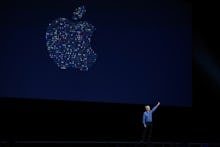 Apple will take the stage on Wednesday to almost definitely show off its next-generation smartphones. According to an alleged leak, they will be named the iPhone 7 and iPhone 7 Plus.
A Reddit post shows a screenshot of a listing on Apple's accessories webpage for headphones. In the iPhone Compatibility menu breakdown, the "iPhone 7" and "iPhone 7 Plus" are listed. The page has since been restored to only include current models. LOL, oops, looks like an Apple engineer was prematurely excited. 
What isn't seen on the Hong Kong Apple site are the rumored AirPods, or wireless EarPods, suspected to be released alongside an iPhone without a headphone jack. 
The leak comes just a day before Apple's keynote event, so we'll soon see whether it holds water.