Bill Cosby hearing: Pennsylvania judge rules on sexual assault evidence, trial date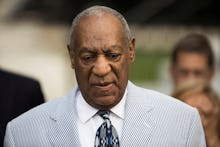 Bill Cosby's criminal trial date was set for June 5, 2017, at a pretrial hearing in Norristown, Pennsylvania, on Tuesday, BuzzFeed reported.
Up to 13 women who've accused Cosby of sexual assault could reportedly serve as witnesses in the upcoming criminal trial for sexual assault. Kevin Steele, the district attorney of Montgomery County, Pennsylvania, filed a motion during a pretrial hearing Tuesday to allow up to 13 women to testify against the 79-year-old during the criminal trial for his alleged sexual assault of Andrea Constand in 2004. 
In including other women's accounts, Steele aims to show Cosby's encounter with Costand was not isolated, but rather, part of a long-running behavioral pattern — "a common plan, scheme or design," Steele wrote in the motion.
"An individual who, over the course of decades, intentionally intoxicates women in a signature fashion with the intention of sexually assaulting them cannot also be mistaken about whether or not those women are consenting to the sexual abuse," Steele's motion continued. "And that is so because the answer is clear: They are not."
In December, Cosby received three felony charges of aggravated indecent assault linked to the incident involving Constand, then the director of operations for the Temple University women's basketball team, where Cosby served on the board of trustees. According to Constand, Cosby drugged and then assaulted her, an accusation that echoes those made against Cosby by 57 other women.
According to the Associated Press, Cosby's legal team now has to confront an approximate 1,000 pages of testimony their client gave during the 2005 lawsuit Constand brought against him. When he was deposed, Cosby admitted to having had a crush on Constand, who came to his house one evening looking for career advice. According to the AP, Cosby said he gave the visibly stressed Constand three Benadryl.
Constand's criminal complaint alleged Cosby gave her three blue pills and told her they were herbal supplements. Shortly after she swallowed them, it became difficult for her to see, speak or move, and she fell "in and out" of consciousness. 
In his deposition, Cosby described the sexual encounter that followed: "I got her skin and ... it's just above where you can go under the pants. I don't hear her say anything. And I don't feel her say anything. And so I continue and I go into the area that is somewhere between permission and rejection. I am not stopped."
The AP also reported Cosby's lawyers were attempting to keep a recording of an incriminating phone call out of court. During his deposition, Cosby said he'd been evasive when speaking to Constand's mother, concerned that the phone call was being taped. He reportedly avoided talking about the specific pills he'd given Constand and apologized for an encounter he characterized as "a dirty old man with a young girl."
"I said to the mother it was digital penetration," he reportedly said in the deposition. According to Constand's complaint, it was that — and then some. 
The AP reports that Cosby spoke freely in that deposition because he believed he wouldn't be charged. Because he also admitted to using Quaaludes to sedate women he slept with, Cosby's 2005 testimony could be decisive in the case.
This story is developing and will be updated.
Sept. 6, 2016, 4:19 p.m. Eastern: This story has been updated.