These world-wandering women will inspire you to blaze your own trail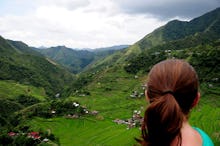 It's Nov. 4, 2008 — Election Day in the U.S. — and Shannon O'Donnell is in tears.
But O'Donnell isn't crying tears of joy over the historic election of Barack Obama — she's about to fly from Florida to Australia, embarking on a year-long solo backpacking trip, and she's freaking out.
O'Donnell hadn't intended to go it completely alone. Her boyfriend at the time passed on the trip in favor of focusing on his career. Friends said they didn't want to be on-the-go for a whole year but might meet up with her along the way. O'Donnell went anyway.
Filled with amazing highs — like taking in the view of the breathtakingly vast Blue Mountains in Australia — and full-on lows — like the time she was incessantly groped by male participants at India's Holi Festival of Colors — the trip turned out to be the first of many O'Donnell has taken in the eight years since. She documents her adventures on A Little Adrift, one among a veritable sub-genre of travel blogs published by women who want to share their experiences of nomadic independence and inspire other women to follow their wanderlust.
"Telling that story just plants the seed of an idea," O'Donnell said, "and I think that's changed a lot of women's minds."
At a time when young American women are increasingly choosing to hold off on marriage and parenting, a growing percentage are nurturing that seed of an idea and embarking on solo travels. In 2014, 72% of American women surveyed by Booking.com reported having taken a solo trip — and 59% were ready to do it again.
"Women, by and large, are more empowered and independent than they've ever been in history, so it's only natural that solo travel is no longer a trend, but a norm," said Angie Orth, who blogs about her travels on Angie Away, by email.
That's not to say these fearless women are in denial about the violence and misogyny that continue to threaten women and girls around the world; but it isn't keeping them from exploring that world either.
"Why should I stay home just because the world is big and scary?" said Emmi Weiner, who is completing a yearlong working holiday in Europe, over email. "It's just as scary at home."
Of course, not everyone is born a badass, and that first solo trip can be daunting, lonely and not always safe. But with smart planning on where you're going, what you're doing and who you're doing it with, there's nothing stopping you from seeking out life-changing experiences.
"The confidence I gained from traveling around the world by myself can't be understated," Orth said. "Solo travel changes you in the best possible way."
Know where you're going
When you're on your own, you're the one who decides where to go. Once you figure out where that is, learn all you can about it.
"Feel confident that you really know where you're going to be," said Jaclyn Mishal of Pink Pangea, a site for women to share their travel stories. "It doesn't mean you have to have every detail planned, but do research so that when you land it's not a complete culture shock."
Going to Facebook groups or resources like Pink Pangea can connect you to others who can give you authentic and experienced advice on how to navigate a city and its culture. And don't feel like you need to plunge headfirst into a completely unfamiliar, off-the-grid situation — it's not a contest!
The research isn't just about what restaurants to eat at and where to stay. It's also about risk assessment. In addition to looking up the visa requirements, says Kevin Brosnahan, spokesperson for the Bureau of Consular Affairs at the State Department, travelers should research local laws, customs and any potential travel warnings or alerts. He also recommends following the State Dept. on Twitter to get up-to-the-minute information right in your feed, registering with the nearest U.S. embassy or consulate, and keeping the contact info "in your back pocket."
And be sure to let other people, especially family and friends, know where you are and keep them updated on where you're headed next.
Know what you're doing
The beauty in traveling alone is that the only person you have to listen to is, well, yourself. But that can be overwhelming at times.
"I thought 'fun' and 'vacation' when I traveled," Mishal said. "[Traveling alone for the first time] wasn't fun, especially not in the beginning, but it was exciting and... I learned to find things that I really enjoyed."
To add a little structure and avoid that anxious feeling of not knowing what to do with yourself, Oneika Raymond of Oneika the Traveller suggests planning out at least the first 24 hours of your trip. That way, you'll know your first move and where you need to go the second the plane lands. "Be prepared," Raymond said. "The best defense is a good offense. If you have a really well-prepared itinerary, it'll help you feel secure."
For your first day, Raymond adds, sign up for a free walking tour, note the places you want to explore further and then revisit them on your own.
Know when not to be alone
"The same tactics you would employ at home to try and use common sense are ones you need to employ on the road," said Jodi Ettenberg of the travel blog Legal Nomads, over email. "It's unfortunate on both counts that we need to, but the reality is we do."
Just like living in a major city, it's important to stay aware of your surroundings and the people around you, and to trust your gut when something feels off.
For Ettenberg, that means watching what — and how much — she drinks, staying in a hostel that's in a well-lit area and not sharing detailed information about herself or where she's staying. Consider carrying a safety whistle. Ettenberg has also used a rubber doorstop to keep the door of her room shut from the inside.
Whenever O'Donnell gets sketchy vibes on her travels, she sits next to a group of women or tells a nearby restaurant or commercial establishment that she's traveling alone.
And if you're not feeling all that tough, says Emmi Weiner, fake it till you make. "People who are up to no good can tell when you are on edge," she said in an email. "If you are confident you'll likely be left alone."
"Put yourself in situations where there's other people around," Raymond said. There's strength in numbers, and it's easy to link up with other travelers to do things that you would have felt uncomfortable doing alone.
Know when to embrace the unknown
For all of your planning and preparation, the beauty of travel is in serendipity — when things don't go according to plan. That's especially true when you open yourself up to meeting new people. Checking in with Facebook groups, Instagram and Meetups can lead to spontaneous and unforgettable moments.
When O'Donnell was visiting the Republic of Georgia, a woman who lived there had commented on O'Donnell's Instagram post about a local monastery. The two ended up meeting for wine and cheese. It turned out to be a "warm welcome to Georgia" from a fellow world traveler, O'Donnell said, and an experience she never could have planned for. 
It's moments like these that make solo travel such a rewarding personal experience — and a powerful act of freedom, independence and self-determination.
As Weiner said, "The world is just as much mine as it is any man's."