Did Donald Trump bribe the Florida AG? The donation hardly anybody's talking about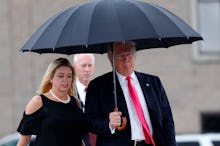 New questions surfaced over the Labor Day holiday about whether Republican presidential nominee Donald Trump bribed a state attorney general who was contemplating launching an investigation into Trump University, and whether he later covered up the political contribution through his charitable foundation.
The Associated Press first reported in early June that, in 2013, Trump had donated $25,000 to Florida Attorney General Pam Bondi — who four days before receiving the contribution had publicly announced that her office was mulling whether to investigate Trump University for fraud. Shortly after receiving the $25,000 contribution, Bondi announced that Florida would not investigate the fraud claims against Trump University.
But the news resurfaced last week, when the Washington Post reported that Trump paid a $2,500 fine to the IRS for the contribution — which was illegally made through the charitable Trump Foundation and not his personal funds. IRS rules state that charitable organizations are "absolutely prohibited from directly or indirectly participating in, or intervening in, any political campaign."
According to the Post, the Trump Foundation also bungled its reporting of the contribution in its tax filings, stating that it gave the $25,000 campaign contribution "to a Kansas charity with a name similar to that of Bondi's political group."
The Trump Foundation told the Post that it was unaware of the faulty donation report until the newspaper and Citizens for Responsibility and Ethics in Washington, a liberal watchdog group, brought it to their attention.
"It was just an honest mistake," Jeffrey McConney, senior vice president and controller at the Trump Organization, told the Post of the reporting error and subsequent fine.
"It wasn't done intentionally to hide a political donation; it was just an error," McConney added.
The new revelations about Trump's donation to Bondi have received relatively scant coverage in the national press.
Yet in the few questions directed to the Trump campaign about the donations, Trump has offered contradictory responses as to why the contribution was made, as well as why.
"I never spoke to her, first of all; she's a fine person beyond reproach. I never even spoke to her about it at all. She's a fine person. Never spoken to her about it. Never," Trump told reporters Monday in Ohio.
However in June, when the AP first reported the donation, a consultant for Bondi's campaign said Bondi personally solicited the contribution from Trump.
And Trump in the past has bragged that he expected favors from politicians he gave campaign contributions to.
"When I want something, I get it," Trump said during a campaign rally in Iowa in January. "When I call, they kiss my ass. It's true."
All of this comes as Trump has sought to paint Clinton as a "crooked" politician who has been engaged in "pay-to-play" scandals during her time as secretary of state.
Multiple news outlets have noted that donors to the Clinton Foundation sought meetings with Clinton when she was secretary of state.
Yet many donors who requested meetings were denied them. And no reports have found any tangible benefits donors received thanks to the funds they gave for the Clinton Foundation's charity work.