Philippines President Rodrigo Duterte said he will eat terrorists alive — literally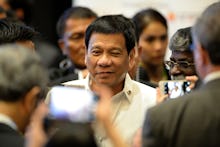 In a speech Monday night, Philippines President Rodrigo Duterte threatened to literally eat Islamic State terrorists alive, reported Rappler, a Philippines-based news site — and he knows just how he'd garnish them, too.
"Just drive me to extreme anger, and I can eat a person," he told a group of constituents during a summit in Laos, according to a translation from Rappler. "Just give me vinegar and salt, I can eat a person in front of them."
And in case that didn't sink in, Duterte doubled down on his cannibalistic promise. 
"You know, I am capable of eating a person," said the president. "Who can be president? Do that. Can they do that, eat a person? Yes. Me, if you anger me, in truth, I will eat you alive. Raw."
Earlier on Monday, Duterte called Barack Obama a "son of a whore" in Tagalog, leading the U.S. president to call off a scheduled meeting between the two leaders.
Duterte is spearheading a bloody crackdown — read: state-sanctioned, extrajudicial killings — on drug dealers in the Philippines that has seen about 2,000 deaths in July and August. Duterte's administration has referred to those murdered as "casualties" in an ongoing "war."