Canadian judge told alleged rape victim "sex and pain sometimes go together"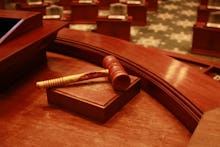 A Canadian judge is on the hot seat thanks to comments he made to an alleged female rape victim in his courtroom. 
The Canadian Judicial Council held a hearing Tuesday to determine whether the words of Federal Court Justice Robin Camp during a 2014 sexual assault trial warrant his removal from the bench.
"Sex and pain sometimes go together," Camp told the victim during the trial, according to court transcripts procured by Canada's National Post. "That's not necessarily a bad thing."
"Sex is very often a challenge," he added. 
According to the Post, four law professors initiated proceedings with a complaint against Camp, in which they alleged that the trial had been "threaded through" with antiquated "myths" and "stereotypes" about sexual violence that caused him to misinterpret Canada's sexual assault laws. 
Furthermore, the judge illegally admitted testimony about the victim's sexual history and intimated that "a woman cannot be raped against her will," illustrating a fundamental misunderstanding of the crime. Allegedly, Camp wrote the encounter off as a misunderstanding, in which "a very unhappy thing happened."
Camp let the defendant, Alexander Wagar, off with a warning, and his victim-blaming logic left the plaintiff deeply shaken, with thoughts of suicide.
"He made me hate myself and he made me feel like I should have done something ... that I was some kind of slut," the victim said during Tuesday's disciplinary hearing, according to the Canadian Press. She testified that Camp asked her why she "couldn't just keep [her] knees together" and made her feel like the assault was her fault.
The CJC has only held 11 such hearings since 1971, the Globe and Mail reported. Camp owned his mistakes in his defense statement and has apologized, but whether or not that goes far enough remains to be seen. 
"He is not perfect," Camp's lawyer, Frank Addario, said at the hearing, according to the Canadian Press. "But he's a good judge."