iPhone 7 sizes and storage: Here are the specs you need to know before you buy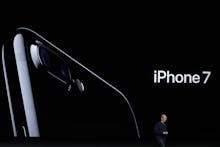 Apple announced two new iPhone models — the iPhone 7 and iPhone 7 Plus — during its keynote on Wednesday. As expected, it scrapped the 16GB model altogether. RIP "storage almost full" message. You won't be missed.
Buying a 16GB iPhone is bullshit. Anyone using the phone to take a bunch of photos while also downloading music, apps and games is going to run out of storage. Fast. So good riddance.
The 4.7-inch iPhone 7 and 5.5-inch iPhone 7 Plus base models will instead start at 32GB, according to Apple's announcement on Wednesday. They will also be available in 128GB and 256GB. The devices will start at $649.
For most, 32GB will be more than sufficient storage space. You can store "thousands of songs, lots of apps, a decent amount of photos and video" with room to spare, iMore reported.
For the average iPhone user, 128GB is more than enough — you may never need all of that space. But if your phone is an extension of yourself — you take photos of everything, download your movie and TV show libraries, download the whole damn app store — and you want to ensure that it'll hold everything you need for years to come, then go ahead and get that sweet 128 gigs. 
For those of you looking to download your brain onto your iPhone so you can live forever, opt for the 256GB. 
And if you find yourself running out of precious space, there's always the cloud.