iPhone 7 specs: Here are the features we're most excited about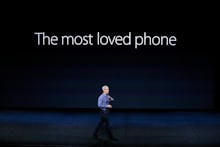 At last, Apple has unveiled the iPhone 7, released Sept. 16. While the device may not have undergone a major aesthetic overhaul, there are several key new features in place. Here are some of the most exciting additions to the iPhone 7:
Dual-lens camera
Though limited to the iPhone 7 Plus, the rear dual-lens camera is a major step forward for mobile photography, following in the footsteps of LG and Huawei. With two 12-megapixel cameras and a wide-angle and telephoto lens, respectively, the iPhone 7 Plus is capable of producing some stunning photography. 
In addition to the extra lens, Apple's new Image Sensor Processor allows Plus photographers to utilize an array of features, including True Tone flash, optical image stabilization and automatic noise reduction. And with the iPhone's 10th anniversary approaching in 2017, it wouldn't be surprising if Apple embeds a dual-lens camera on all iPhone models going forward.
Increased storage
Additional space may not strike one as a showstopping feature, but Apple's new storage tiers are a massive bonus for the iPhone 7 and iPhone 7 Plus. With 32 GB, 128 GB and 256 GB options available, the iPhone 7 can store an exceptional amount of media and apps, opening the doors to a more desktop-like experience. Not to mention the space is highly useful for all those higher-quality photos iPhone 7 Plus users will be taking. That annoying "Cannot Take Photo" error message is going to become increasingly rare.
Water and dust resistance
Armed with IPX7 protection standard, the iPhone 7 will be able to withstand dust and water splashes. We don't need to explain how important this feature is. And while the iPhone still has a ways to go until it's completely waterproof, the addition of this technology is a major step forward for Apple.
Retina HD Display
The iPhone 7 will feature Retina HD display, which renders colors more accurate. This will better demonstrate photos taken by the iPhone 7's camera as well as improve reading experience on the device. It's a simple but welcome addition.
Lightning AirPods
Love it or hate it, Lightning audio is a game-changer, and if Apple's penchant for trendsetting continues, it'll mark the beginning of a new era. Simply put, Lightning audio makes music sound better thanks to an advanced W1 Chip. Plus, Apple's new AirPods are wireless and easy to store, and if you're really opposed to Apple dropping the traditional 3.5 millimeter headphone jack, an adapter is bundled with each iPhone 7 and iPhone 7 Plus. The AirPods even sync with all of your updated Apple devices, and if that isn't good enough, Beats is introducing several lines of wireless Lightning headphones as well.