25 must-have kitchen items to put on your wedding registry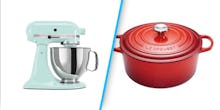 Congrats, you're getting married! And even bigger congrats on the opportunity to redecorate your kitchen. While that $275 vase you would never actually buy yourself may be tempting, take advantage of your one and only wedding registry to stock up on the essentials. Even if you have basic kitchen gear already, consider using this major gifting opportunity for an upgrade and donating your other wares. 
"The two biggest mistakes couples make when registering are not registering for what they want, and not upgrading existing items," Zola's "Newlyweds-At-Large" Jennifer Spector, said in an email. She recommends couples take stock of what they already need, using a registry checklist to go through your home and see what you want to keep, what makes sense to upgrade and what you should replace. 
Most importantly, don't register for anything you don't want. "Know who you are as a couple before you are married. If you don't cook now, you won't magically become a chef. If you don't know how to decorate a cake, you might not want to register for a cake decorating set. That said, if you do have a specific skill in the kitchen, like you make the most delicious apple pie, register for a pie plate because that's a very personal gift somebody might like to get for you, and they might even get a sweet treat out of it," Spector said. 
Zola pulled exclusive data on their top 25 kitchen items most registered for over the last three months, to guide you on your best possible wedding registry. 
The iconic registry kitchen tool, "guests love to gift kitchen essentials that they know the couple will use as a married couple, whether you are a takeout queen or a savvy chef." Prepare for a lot of at-home date nights mixing dough. 
2. Blue Apron 2-Person Meal Plan
Food is always a great gift, especially for newlyweds who have better things to occupy themselves with than deciding what to make for dinner. 
3. Le Creuset Individual Stackable Ramekin
Can you ever have too many ramekins? No. 
4. Cuisinart Round Classic Waffle Maker
A great way to get your new spouse to make you breakfast in bed is to register for this, um, essential. 
5. KitchenAid Ultra Power 5-Speed Hand Mixer
Because mixing by hand is not for you. 
Practically the gift of a personal sommelier, this wine club matches bottles to your tastes. And yes, you'll want all the wine when you have to write all those thank you notes. 
7. Le Creuset Signature Round Dutch Oven
Basically the original Crockpot, this stand-out kitchen piece is not only gorgeous, but practical. For pricier items like this one, Spector also recommends using group gifting so multiple people can go in on that larger gift you really want. 
You'll need somewhere to store all those leftovers. Make it match before you find yourself in a mixed Tupperware nightmare.
9. Lodge Logic Cast Iron Skillet
Every well-stocked kitchen needs at least one solid cast iron skillet. 
10. Le Creuset Covered Rectangular Casserole Dish
Basic registry rule: Register for as much Le Creuset as you can. You won't regret it. 
11. Silpat Nonstick Baking Mat
Avid bakers should use this opportunity to register for a new Silpat mat and those who haven't tried one yet may just be converted to baking as soon as they realize how much easier this makes cleanup. 
12. J.A. Henckels International Statement Steak Knife, Set of 4
Going to a steakhouse just got so much less exciting, now that you'll have these at home. 
13. OXO Good Grips 4-Piece Measuring Cup Set
These are so much better than the plastic measuring cups you've used since moving into your first apartment. 
14. Duralex Lys Nesting Prep/Mixing Bowls
These attractive prep bowls also double as serving bowls for company. 
15. Calphalon Nonstick 10-Piece Bakeware Set
Instead of registering for bakeware by piece, this set gives you everything you need for "Home Baking 101."
16. Cuisinart Programmable Slow Cooker
A machine that practically makes your entire meal for you, on your schedule? Yes, please. 
Couples who love pizza can embark on a new pizza-making adventure with this easy-to-use pizza stone. 
18. Cuisinart 3-Piece Mixing Bowl Set with Lids
These mixing bowls which double as storage containers are a smart basic to stock in your kitchen. 
19. Cuisinart 4-Slice Metal Classic Toaster
Upgrade your toaster now or forever hold your piece, of burnt toast.
20. OXO Good Grips Digital Instant Read Thermometer
Necessary for meat eaters.
21. Calphalon Contemporary Nonstick Square Griddle
Registering for an outdoor grill may be excesive, but you'll probably get more use out of this stovetop griddle anyway. 
22. OXO Good Grips 3-Blade Spiralizer
Spector said this is a popular item with vegetarians. However, anyone who wants to prioritize eating more veggies should request for this one. 
Even if you're not a pizza maker, you don't want to be stuck in the slump of not being able to slice a frozen pizza. The horror!
24. Wusthof Gourmet 18-Piece Knife Block Set
Knives aren't cheap but your future selves will thank you for registering for this German knife set, which should last practically forever. 
25. Le Creuset Revolution 5-Piece Tool Set with Crock
Start your married life with matching cookware, and somewhere to keep it!