Women may actually ask for raises as often as men do — they just don't get them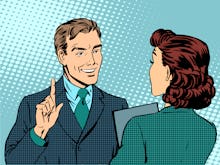 A new study investigating the gender wage gap found something surprising: Working women may be asking for raises as often as their male counterparts, they're simply more likely to be told, "No."
The study, conducted by researchers at two universities in the United Kingdom and at the University of Wisconsin, examined 4,600 workers in Australia and found that men were 25% more likely than women to get a raise when they asked for one.
The researchers told CNN Money that this trend in Australia's economy is "highly likely to be representative of behavior" in other places — like here in the U.S.
If women aren't getting raises because they're being flat-out refused, not because they aren't asking, that suggests something darker at play in the workplace. 
"Having seen these findings, I think we have to accept that there is some element of pure discrimination against women," University of Warwick economics professor Andrew Oswald, one of the study's authors, told CNN Money.
The findings run contrary to what CNN Money calls "the myth that the gender pay gap is a result of women not asking for more money because they're less ambitious, more worried about upsetting their boss or afraid of being seen as too pushy."
But some have argued that problem may not be such a myth — in 2011, researcher Linda Babcock told NPR that women lose out on "anywhere between $1 million and $1.5 million" in total lifetime earnings because they don't negotiate salary at the the start of their careers.
"They wait to be offered a salary increase," Babcock said. "They wait to be offered a promotion. They wait to be assigned the task or team or job that they want. And those things typically don't happen very often."
But Babcock's other findings support the new research on the gender wage gap. When she showed people videos of both men and women asking for raises, using the same exact scripts, participants found the woman to be "too demanding," Babcock said. "And this can have real consequences for a woman's career." 
In the U.S., women earn 83% as much as men, according to the Pew Research Center. But the numbers aren't the same for all women. In 2015, white women earned an average of 82 cents to every dollar a white man made. Black women earned 65 cents to a white man's dollar and Hispanic women earned 58 cents to every white man's dollar.
But some legislators are working to protect women from the lasting harm of the wage gap. Rep. Eleanor Holmes Norton, D-D.C., along with Democratic Reps. Rosa DeLauro of Connecticut and Jerrold Nadler of New York, plan to introduce a bill that would keep potential employers from asking for applicants' salary histories, Essence reported on Friday. 
"If this disparity can begin from the moment you go to your first job, and it follows you throughout your career, it will never be rectified and the wage gap itself will never be rectified," Norton told Think Progress. "... People of color and women never break the chain of discrimination, because it's built in."