How to make zoats, the zucchini and oatmeal breakfast dish that's taking over Pinterest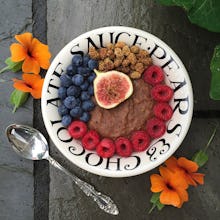 Zoats are taking over Pinterest. While the name might read like a typo, zoats are quite simply an amalgamation of zucchini and oats. So yes, that's right, people are now putting zucchini in their morning oatmeal. 
So what is in a bowl of zoats?
At its most basic, a bowl of zoats is just shredded zucchini mixed with oatmeal and egg whites, Philadelphia Magazine noted. 
But many jazz up the recipe with the addition of things like fresh fruit, spices and chocolate. Zoats are so versatile, they can be made to taste like zucchini bread, cinnamon rolls and even carrot cake. 
Why should you add zucchini to your oatmeal?
While shredding vegetables into your oatmeal might sound strange, there are a number of health benefits to doing so. Zucchini in particular is high in fiber, a nutrient that leaves you more satiated after a meal, the San Francisco Chronicle reported. One large zucchini contains 3.2 grams of the stuff.
Zucchini are high in folate and magnesium as well, which help to support the metabolism and bone health respectively, the Chronicle reported.  
The squash is also incredibly low in calories. By adding the vegetable to your oatmeal, you require less oats, meaning that the calorie count will drop. Blogger Plant Based Pixie notes on her blog that bowl of zoats made with almond milk comes in at around 150 calories for the entire dish. 
How long does it take to make?
Unlike zoodles, which require a spiralizer or other kitchen tool, or zucchini pizza crusts, which require a lot of shredding and soaking, zoats are pretty simple to make. Many go the no-cook route, which involves grating the zucchini and placing it with the oats and liquid components in a jar to soak together overnight. In the morning, the mixture is ready to be topped with ingredients like fruit and nuts. Others simply place all the ingredients on the stove and cook it until the liquid is absorbed (about five to 10 minutes). 
What do they taste like?
As for the taste, bloggers appear to be seriously enthusiastic about the recipe, claiming that it is delicious. The blogger behind Nutrition Stripped is a bit more of a realistic, writing that "a sweet egg and zucchini recipe doesn't necessarily get many of our stomachs rumblin' in a good way." Still, she is a fan of zoats and claims that the dish is filling and "tastes amazing." Then again, anything doctored up with enough fresh fruit, nut butter and maple syrup usually tastes great. 
Got any recipes?
The best part about zoats is how versatile the base is. Don't be afraid to add in fancy toppings like caramelized fruit, chocolate or even cayenne to really take breakfast to the next level. Here are seven stellar zoat recipes below: 
Inspired by Mexican hot chocolate, this recipe is a great way to eat chocolate for breakfast. It calls for plenty of cocoa powder as well as cinnamon and cayenne which round out the flavors.
Caramelized pears add an elegant fall touch to the dish, which also gets an added crunch from a sprinkle of pumpkin seeds.
Heavenly, indeed. This recipe offers up a double dose of vegetable goodness thanks to the addition of creamy pumpkin puree. It also has a chocolatey kick thanks to the addition of cocoa powder. Top it with slices of banana for hearty and well rounded breakfast that would make nutritional pyramid proud.
The best part of this recipe is how simple it is. Simply mix together four of the five ingredients, let them sit in the fridge overnight, and voila, breakfast.
You may sometimes justify a piece of carrot cake for breakfast, but this recipe is a healthful take that requires no reasoning. This recipe combines all the flavors of carrot cake into one bowl, but has none of the refined sugar. Instead, it is sweetened with a bit of maple syrup.
Skip the orange juice in the morning and instead whip up a bowl of these zoats. The citrus adds a great dose of vitamin C to a dish that is already high in fiber.