Unsung style icon: Blac Chyna, pioneer of bodycon dresses, sweatpants and colorful wigs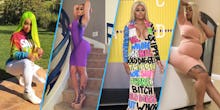 There is no better time to be Blac Chyna than the present. 
The model, entrepreneur and soon-to-be Kardashian has amassed fame from a finely-calibrated Instagram, almost unthinkable proportions, steamy rap video appearances and a relationship with a Kardashian. She has created an empire comprised of a makeup line, a clothing line for shapely women and more than eight million followers, all by authentically being herself. And all that happened relatively recently — or at least you might think so. 
"It may seem as if Blac Chyna came out of nowhere: the PR equivalent of Venus rising fully formed from the foaming sea with an engagement ring in one hand and a pregnancy announcement in the other," BuzzFeed reported. "But look closer and you'll start to notice Chyna everywhere: dancing in rap videos, sitting court side at NBA games, making appearances on your favorite reality show."
Slowly but surely, she has jettisoned into Kardashian-level fame, with millions of eyes on her (or at least pictures of her) every day, following her every move on social media with an upcoming reality show to boot. How most people know her now is either via her tight friendship with Amber Rose, the patron saint of loving yourself, or her relationship with Rob Kardashian, brother to those Kardashian sisters, or, well, her body. But because the spotlight has remained on her shape, you might not have noticed the outfits that were hugging those said curves. You might not have noticed just yet that she has quietly carved out an outrageous, daring and enviable style of her own. 
Pregnant and still killing it in stretchy dresses and velour, she is perhaps one of the most truly unsung style icons of our time. 
So, let's run through five reasons why that is. 
Blac Chyna's body was made for the bodycon dress — and she knows it. 
Before Mr. Kardashian came into the picture, and even before Chyna amassed millions of fans on Instagram, Blac Chyna was a proud and successful video vixen. And what does a video vixen wear when she goes out in the 2010s? 
A bodycon dress, of course, with its ability to show off every curve while also being undoubtedly flattering. (They're also known as bandage dresses.) 
But perhaps even unbeknownst to her, by embracing the bodycon dress, Chyna was being a bit of a style rebel. In 2015, the former head designer of Herve Leger, who's been given credit for popularizing the bandage dress, said that he thought this type of dress wasn't for "voluptuous" women or women with "prominent hips." (Clearly, he hadn't seen Blac Chyna yet.)
This is just one instance of Chyna rebelling against fashion's expectations and shamelessly shows off her curves, which is just one of the signatures of her personal style. 
Chyna is magically making athleisure sexy. 
Like Britney Spears and Paris Hilton before her, Blac Chyna loves herself a sweatsuit. That may now be because she's pregnant and deserves all the comfort in the world, but she is fully aligning herself with the athleisure trend while still not budging on her personal style. 
It's not like she's blending in with women like Kendall Jenner or Taylor Swift, who are devoted to brands like Lululemon. She is wearing head-to-toe matching grey cotton and leggings of an unspecified brand. By wearing these outfits, she is letting women who look more like herself body-wise as opposed to, you know, Swift, know that athletic wear is for them too. She's even attempted to put her own spin on them, pairing a tight athletic crop top with matching red pants. 
And it just so happens that she looks better in sweatpants than, well, everyone else. 
In a mere four months, she has reinvented pregnancy style. 
Seventeen weeks ago, Chyna posted an Instagram that rocked the internet. It was an emoji figurine of herself, except her usually svelte stomach was now protruding. The emoji's hand rested over the bump, flashing her ring. 
Chyna was, just a few weeks after announcing her engagement to Kardashian, pregnant. 
Since then, Chyna's style hasn't exactly changed. She has stuck to her routine of body-hugging and revealing garments, favoring elastic and a bit of stretch above all else. She still wears low-cut tops dresses and hip-hugging skirts. It's just that now her tummy is a bit more prominent than usual.
Her style is, we hate to say this, but not unalike her soon-to-be sister-in-law, Kim Kardashian West. Just like Chyna, Kardashian's style doesn't really change when she's with child. But there are differences. 
Rather than covering up her bump, which Kardashian tends to do, Chyna has started to show it off, wearing crop tops and tight jumpsuits that are so low that you see the top of her bump. Then there's also the fact that Chyna is most likely doing this on a much, much smaller budget. 
Although she is still a hugely successful entrepreneur, she doesn't exactly have Kardashian money (yet) and designers like Balmain aren't exactly throwing clothes at her (yet) so her continuing to make fashion statements only confirms her dedication to looking good as hell 24/7 and that all this style is really her own, and not something she's been handed. 
And she's reinvented mom style as well. 
Dressing like a mom to Blac Chyna means ... dressing like Blac Chyna. Much like Kim Kardashian West here too, she isn't letting motherhood define her look or stop her from wearing what she really wants while hanging out with her son, King. 
Often, when a famous woman becomes a mother, the media expects a woman to become tamer (think Angelina Jolie), but Chyna has rebelled against that idea completely (much like her BFF Amber Rose, too), remaining the same independent, sexy woman she is while also happening to be a mom. 
Sprinkled among well-lit selfies and near-nude photographs on her Instagram are pictures of Chyna lounging in robes or athletic leggings and hoodies while hanging with her kid. She's merely dressed like a woman on the go, who happens to be at the helm of an ever-expanding empire.
Most of all, though, Chyna is unafraid of constantly changing up her hair. 
In just the past few months, Chyna has had red hair, pink hair, green hair, blonde hair, black hair, brunette hair and then back again. She has had curls and long straight locks and bangs and even bantu knots. 
She is seemingly just as unafraid of being risky with her hair, changing styles and looks from day to day — and sometimes just for the sake of a good selfie — as she is with her fashion. It's all for a look that is now constantly copied, but never quite replicated. 
That's because no one can quite do it like Chyna. Blame her fearless fashion ways, but she takes trends and kicks it up to 11, daring women in her path to do the same. For that, she should be considered one of the greatest, if not the most rebellious, style icons of our time.