Apple Watch Series 2: all the new features that might make you actually want to buy one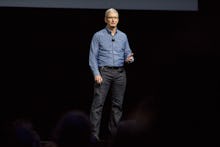 The Apple Watch Series 2 has officially been announced. Set at a price of $369 for Series 2 and $269 for Series 1 (the original), Apple is hoping its new smartwatch can reverse the trend of its predecessor with several key new features. It's no secret the original Apple Watch didn't perform too well following its debut in April 2015, but here are a few additions that could make the Apple Watch Series 2 worth buying when it becomes available for preorder on Sept. 9:
GPS
The inclusion of a GPS chip means Apple Watch Series 2 users can access Apple's native Maps app without relying on tethering from a separate iPhone. It's a useful feature overall and will be especially handy for runners looking to map and track their routes without being weighed down by a bulkier iPhone.
Faster processor
The Apple Watch Series 2 features an S2 processing chip that increases the device's speed by 50 percent. This addition, along with watchOS 3 (available Sept. 13), should make the Apple Watch Series 2 a much smoother experience.
Waterproofing
Apple has finally given into consumer demand for the implementation of waterproofing technology. This innovation will prevent water damage while swimming and surfing, and is good for depths of 50 meters. The Series 2 has a stunning feature that ejects water from the speaker to prevent electrical damage. The watch even syncs with your workout routine to create a personalized schedule.
Nike Plus 
The fitness benefits don't stop there: Apple has partnered with Nike to introduce the Apple Watch Nike Plus. The advanced smartwatch is designed You can simply tell Siri to start a run which prompts a ticker that tracks your time and distance. It'll be available for purchase sometime in late October.