How to make balsamic, caesar, ranch, Italian and green goddess salad dressing at home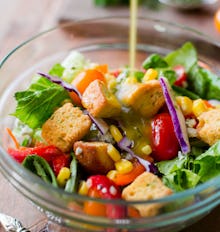 A naked salad is not a salad worth eating. 
We all know the dressing is the best part of any salad, and, spoiler, it's even better when you make it yourself. Skip the preservatives, additives and unnecessary sugars in bottled dressings and make your own salad dressing in a matter of minutes. 
Below, find some easy recipes for five popular salad dressings. You'll be able to whip them up in a flash.
Balsamic Vinaigrette
All you need is balsamic vinegar, olive oil, garlic and herbs to whip up this five-minute salad dressing. Get the recipe here. 
Caesar
Greek yogurt lightens up this easy-to-make Caesar dressing which packs in just as much flavor as your favorite restaurant version. Get the recipe here.
_____________________________________________
Read more: 
Ranch 
Mayo, sour cream and buttermilk all make the base for this creamy dressing which is almost easier to make, than to eat. Get the recipe here.
Italian 
Just a few fresh veggies and cheese dress up a basic oil and vinegar combo to create a homemade Italian dressing that rivals Wishbone. Get the recipe here.
Green Goddess
With a tahini base, this dairy-free green goddess dressing is super creamy and full of freshness from the herbs blended in it. Making it is as easy and tossing a few ingredients into a food processor. Get the recipe here.