President Obama nominates first-ever Muslim federal judge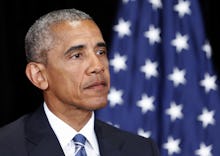 On Tuesday, President Barack Obama nominated lawyer Abid Qureshi for the federal district court of Washington, D.C., who if confirmed, would serve as the first Muslim federal judge.
According to the National Law Journal, civil rights organization Muslim Advocates says Qureshi is also the first Muslim a president has ever nominated to the federal judiciary. Earlier this year, the Guardian noted Obama had not yet nominated a Muslim to the federal bench, despite leading an unprecedented push to diversify the pool of "785 federal judges, according to the Federal Judicial Center, with about 90 vacancies outstanding."
"I am pleased to nominate Mr. Qureshi to serve on the United States District Court bench," Obama said in a statement. "I am confident he will serve the American people with integrity and a steadfast commitment to justice."
According to the National Law Journal, Qureshi is a "Latham & Watkins' pro bono practice and a litigation partner." While his nomination is historic — and flies in the face of Republican presidential nominee Donald Trump's contention earlier this year that Muslim judges might be biased —  it is also unlikely to result in Qureshi landing a federal judgeship anytime soon.
Republicans in the Senate have blocked more of Obama's nominees for the federal judiciary than any president in the past 30 years, according to a May analysis from their Democratic counterparts published in the Washington Post. 
Merrick Garland, who Obama nominated to fill late U.S. Supreme Court Justice Antonin Scalia's seat back in March, is still waiting for Senate consideration. Dozens of other federal seats are likely to go unfilled through the remaining months of the president's term, due largely to a long-running campaign of obstruction against Obama nominees. 
Last year, the Huffington Post reported a shortage of federal judges had resulted in massive backlogs of cases for judges across the country, with many individual judges working overtime to address them.