'RuPaul's Drag Race All Stars 2': How do you solve a problem like Phi Phi O'Hara?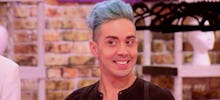 If the first episode of RuPaul's Drag Race All Stars' second season was Roxxxy Andrews' time to shine, and the second was Katya's, the third is supposed to be all about Alyssa Edwards.
(Editor's note: Spoilers ahead for the second season of RuPaul's Drag Race All Stars and the fourth season of RuPaul's Drag Race.)
The Texan dance teacher and host of Alyssa's Secret gets the lion's share of the screen time in the episode, and she runs away with the challenge, a lip-syncing extravaganza about women in herstory.
But thanks to the episode's editing, as well as drama happening off the show, there is one queen who steals focus from Alyssa this week. That's right: It's time to talk about the season four villain, Phi Phi O'Hara — and why she may actually be the most compelling figure in the All Stars 2 cast.
During her season, Phi Phi was the consummate reality TV antagonist, fighting constantly with eventual winner Sharon Needles and fellow queen Willam. She screwed over seventh-place queen Jiggly Caliente by intentionally giving her bad advice that ultimately got her eliminated. It's not a stretch in this episode when Alaska calls her "the baddest bitch in RuPaul's Drag Race herstory."
As Phi Phi noted in the All Stars premiere, getting work was really hard for her post-show — so she set to work fixing that. She changed up her drag aesthetic, becoming a cosplay queen with world-class makeup skills. All Stars is her chance to show off that evolution, while also convincing Drag Race fans she's made over her personality, too.
In the last episode, Phi Phi convinced Roxxxy Andrews to not perform as Sofia Vergara in Snatch Game, nearly getting Roxxxy eliminated in the process. The edit painted her as "strategic," as fellow competitor Tatianna put it, and not in a good way. To say that did not sit well with Phi Phi would be an understatement.
Phi Phi blamed the show's editing for her portrayal, but it's worth noting that Roxxxy, also a villain in her season, dismissed that excuse for herself in the All Stars premiere. "A lot of girls wanna blame editing, but I'm not that girl," she said. "Anything you said on this TV show, you said it."
In Thursday's episode, during a choreography rehearsal break, Phi Phi insists that season seven queen Ginger Minj's dress is too big for the lip-syncing challenge stage. Ginger demurs to Phi Phi's face — but in confessionals, she dissects Phi Phi's dilemma:
I like Phi Phi a lot. But I think Phi Phi had certain notions in her head when she walked into this competition about what she needed to do to redeem her reputation from her season, what she needed to do to last a while — and all of those things don't necessarily mesh well with one another. So sometimes it feels like she goes out of her way to ruffle somebody's feathers or to plant a seed of self-doubt. It's weird.
Ginger is quite right. Phi Phi undoubtedly wants the world to see that she's changed — and it does seem like she has worked on herself and made changes that help her avoid screaming at fellow competitors like she did in season four. It's also probably true that Drag Race's story producers are editing her to be this season's villain as well.
But here's the rub: The editors are doing that because she's giving them the material. Phi Phi is saying the things she's saying and doing the things she's doing. She wants to have her cake and eat it, too, by being the nice queen who also gets ahead in the competition using shady tactics. That is, frankly, an almost-impossible conundrum to resolve.
However, in the past week, a whole separate situation developed off the show. A redditor named Dking926 posted a report from Alyssa and Coco Montrese's appearance at Roscoe's Tavern in Chicago last Friday. Among other things, the redditor claimed that Alyssa and Coco were extremely negative about Phi Phi, saying they implied most of the All Stars contestants disliked her.
Phi Phi got wind of the post and tweeted her sarcastic thanks to Coco and Alyssa. Coco, for her part, didn't much care.
Alyssa has remained silent about the off-the-show drama, but coincidentally, Phi Phi opens the third episode by shading Alyssa's personality as annoying. "She is funny sometimes," Phi Phi says. "Sometimes." 
Meant to be playful or not, this, combined with Ginger, Coco and Alyssa's statements is adding up to a major mean streak. Said streak is antithetical to the nice-girl image Phi Phi so desperately wants to portray. But in reality, she shouldn't shy away from her rougher side. Instead, she should embrace it — and show the power of true change.
The second season of RuPaul's Drag Race All Stars is all about redemption. Tatianna and Ginger sought it, but were eliminated too soon. Roxxxy is still seeking it, to some success. But Phi Phi's journey is by far the most compelling, because she has the most to prove.
"I just didn't feel safe going anywhere," Phi Phi says in the episode of the world's reception to her after season four — a time when she got death threats and considered quitting drag. "People really take it seriously, and they wanted to hurt me."
Much to her chagrin, Phi Phi isn't going to be painted as the purest soul on All Stars 2. That doesn't forgive fan response. Death threats are never OK, and are a disproportionate response to reality TV villainy. But so far, Phi Phi is indeed the villain of this season, albeit one with a gripping underdog narrative.
This episode, Phi Phi turned out a fun performance in the lip-sync challenge and a breathtaking runway look. If she continues to succeed in the competition, she'll be better than either hero or villain. She'll be an honest, flawed person just trying to transform herself. That kind of change is the very essence of drag; moreover, that's a story many viewers can relate to.