Darren Seals, Ferguson activist, found shot to death in burning car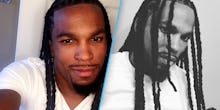 Darren Seals, a prominent Ferguson, Missouri, activist following the 2014 police shooting death of Michael Brown, was found shot to death inside a burning car Tuesday morning in St. Louis County, according to multiple reports.
The 29-year-old's body was found inside the charred vehicle on Diamond Street, 12 miles from where he lived, after the flames were extinguished, according to the New York Times. Seals' death is being investigated as a homicide. 
According to the Times, Seals led protests with the activist group Hands Up United. Seals was oftentimes critical of the Black Lives Matter movement.
Described as an assembly line worker and hip-hop artist by the Washington Post in a 2014 profile, Seals was active on Twitter under the username King D Seals, often tweeting about police brutality. Seals had recently voiced support for San Francisco 49ers player Colin Kaepernick for protesting the national anthem.
In his Post profile, Seals discussed the importance of voting to take action against police brutality. "Just because they've got the D next to their name, that don't mean nothing," he said. "The world is watching us right now. It's time to send a message of our power."
According to the St. Louis Post-Dispatch, authorities have not released any information on a possible motive or suspect in Seals death.