Americans think Hillary Clinton and Donald Trump are the worst nominees in modern history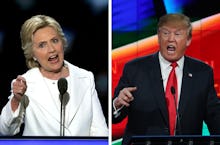 Americans say Donald Trump and Hillary Clinton are the worst candidates that their respective parties have nominated over the past 40 years, according to a new Huffington Post/YouGov poll published Tuesday night.
A whopping 45% of Americans said Trump is the worst Republican nominee in 40 years, with 10% saying he's the best.
And 37% of Americans say Trump is the worst nominee of either party in that same 40-year time period. Meanwhile, 22% of Americans say the same of Clinton.
Conservative icon Ronald Reagan is viewed by 44% of Americans as the best GOP nominee in 40 years, with no other Republican nominee coming close.
Roughly a third of Americans, or 31%, say Clinton is the worst Democratic nominee in 40 years, with just 3% saying she's the best.
While Americans think Clinton is the worst Democratic nominee in 40 years, they do not think the same of her husband, former President Bill Clinton. He's seen as the best Democratic nominee by 29% of Americans. President Barack Obama comes in at a close second with 25%.
According to the Huffington Post, the negative perceptions of Trump and Clinton are likely thanks in part to the fact that both candidates are currently running for president, and thus their warts are "freshest in Americans' minds."