Trevor Noah mocks Donald Trump's church visit to woo black voters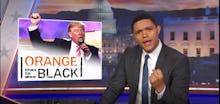 Donald Trump's attempt to win over black voters by visiting a black church in Detroit did not escape Trevor Noah's notice. The Daily Show host broke down the real estate mogul's logic in opting for a church visit on Tuesday's show. 
"He either goes to barber shops, Tyler Perry movies, or black churches," Noah explains. "But he's not going to go to Tyler Perry movies, because, I mean, Madea's a two. He's not going to go to a barbershop because they'd hook him up. His only remaining option is church." 
Noah then showed footage of Trump at the church, along with a voiceover noting that Trump was there "swaying to the music," which Noah protested. 
"I've got to call out the media on this one," he says. "Donald Trump was not swaying to the music. He was swaying, and there happened to be music playing at the same time. The two happened completely independently of each other." 
Noah highlighted other awkward moments from Trump's church visit, including his speech and his reaction to receiving a white prayer shawl by a pastor. But to understand why Trump decided to make the visit — and if Trump really believed he would woo black voters — the host brought in correspondent Roy Wood Jr. to explain the Republican candidate's real goal: winning over white voters who have black friends. 
"That's not why he's there," Wood Jr. explains. "Trump is just trying to convince white voters that he's not racist so that they feel better for voting for him ... now these white people get to go to the polls and go, 'Oh, how can the man hate black people? He went to Steve Harvey's church!'" 
Watch part of the Daily Show's segment on Trump's church visit below.