Here are the new iPhone 7 colors to choose from — and what people are saying about them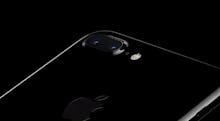 At Apple's fall keynote event on Wednesday, CEO Tim Cook took the stage to finally announce the bit of information the aesthetes among us have long been awaiting: the colors.
In addition to the classic monochrome palette that previously accompanied the iPhone 6, including rose gold, gold and silver, the iPhone 7 and 7 Plus will also introduce two new colors:  "black" and "jet black."
While the earliest iPhone generations came only in the standard black and white options, beginning with the iPhone 5s, Apple introduced gold, space gray and silver models as well.
The new colors were previously leaked by KGI Securities' Ming-chi Kuo, who, as the Verge notes, has a pretty reliable track record on reporting new iPhone details before their official release. 
Like a "Choose Your Own Adventure" book for your tech, selecting the color of your new iPhone is a decision that's not to be undertaken lightly — after all, you'll have to live with the consequences for the rest of your life (or, okay, until your contract ends).
Apple aficionados immediately took to Twitter after the launch on Wednesday to geek out over the freshly announced hues: