Zendaya says she was refused service at a store because of her skin color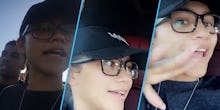 Disney Channel star and Spider-Man actress Zendaya says she was refused service at a Vons grocery store because of the color of her skin. 
In a series of videos posted on her Snapchat on Tuesday, Zendaya said she was trying to buy gift cards from a Vons store when an employee tossed her wallet back to me. 
"Now I am trying to buy a lot of gift cards," Zendaya explained in a Snapchat video. "Now there's some certain, specific things you have to do when it comes to buying gift cards ... There's some certain limits and things ... But the lady that was helping us, I don't think she was a huge fan of our skin tone."
"In fact, I recall her not trying to help us at all, saying that we couldn't buy the gift cards, and then throwing my wallet ... She was like, 'you can't afford this' is how she looked at me," Zendaya said in the video.
The 20-year-old performer has been the target of racism in recent months. When it was announced that she would play Mary Jane in a new reboot of the Spiderman franchise, Twitter exploded with people complaining about a nonwhite actress playing the character.
Zendaya has repeatedly spoken out against racism — from explaining the key points of cultural appropriation to clapping back against Giuliana Rancic's inappropriate comments regarding her dreadlocks on the Oscars red carpet.
In a later Snapchat video, Zendaya explained that the Vons manager came to help, and in the end, she was able to buy the gift cards. But, as she said, "Long story short, there's so much progress to be done in our world."
On Wednesday afternoon, Vons responded with an emailed statement, saying "At Vons, we strive to treat each and every customer with the utmost respect. There is a policy that limits gift card purchases using a credit card. Zendaya was able to purchase gift cards up to our limit, and we apologize for any inconvenience or misunderstanding. We respect Zendaya's voice in the community and similarly are committed to diversity and inclusion. Moreover, we understand that race is a sensitive issue in America and view this experience as a reminder that every interaction is an opportunity to treat each customer as we ourselves would like to be treated."
Sept. 7, 2016, 5:25 p.m. Eastern: This story has been updated.