Kanye West's Yeezy Season 4 fashion show was a celebration of black beauty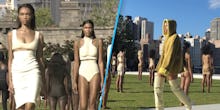 On Wednesday in Four Freedoms Park on Roosevelt Island in New York City, Kanye West debuted Yeezy Season 4, proving that he loves a spectacle more than just about anyone.
On a field of green grass, hundreds of models stood (or sat) at attention in silence wearing unitards, knits and elastic separates in black and various shades of brown.
At first, Twitter thought that this was going to be the entire Yeezy collection and people were... peeved, to say the least.
But then, even more models trickled down on a triangular runway surrounding the women in the grass. From aerial shots filmed above, it looked like they were about to be abducted.
As far as the clothes, it was a lot of knits in varying shades of cream and brown. One model wore a splash of color in a dull shade of pistacio.
If you've ever seen a Yeezy show, this is nothing new.
While Yeezy Season 3 had the advantage pops of color — it was muted shades of red and orange, but still — Season 4 was far more dull, with lots of brown and creams.
But on a brighter note, among the hundreds of models who walked or stood or sat were Teyana Taylor, the star of West's recent video for "Fade," Chanel Iman and Braina Laviena, rounding out a diverse group of hundreds of women. After a few minutes it was clear: this was Kanye's homage to black beauty.
Prior to this Yeezy show, West had sparked controversy at the model casting asking for "multiracial women," which many took to meaning no black women unless they're mixed with another race. But hours before Season 4 debuted, West sat down with Vogue to address the controversy, saying, "The ten thousand people that showed up didn't have a problem with it."
"How do you word the idea that you want all variations of black?" West asked. "How do you word that exactly?"
And indeed, West ended up with a diverse cast of models of many different shades and shapes. And that matters because still, in 2016, the majority of working models are white. Yeezy Season 3, when it debuted in February, was the most diverse show of the season, and now it looks like Season 4 is set for that accolade as well.
On Twitter, lots of people had something to say about that. Not only did West use solely models of color, but he also used several models with natural hair. It looked like a celebration of black women.
Unfortunately though, the models' jobs weren't all that glamorous.
As a refresher, for the Yeezy Season 1 show, West had his models stand in uniform rows, slowly marching forward to show off more of his designs. For Season 2, he had them march in rows once more, but cast drill sergeants to bark orders at them. For Yeezy Season 3, he made his models stand for more than an hour in Madison Square Garden as he played his latest album and bopped around with his friends.
So yeah, it's safe to say that he loves to make his models suffer. Obviously, this year it was much of the same, with some models standing barefoot in the grass for more than an hour before the show. For at least one model, it was just too exhausting.
And for another, West's shoes proved too unstable.
There's a reason why Yeezy Season 4 show might have reminded you of years previous. For this show, West teamed up with artist Vanessa Beecroft, who famously worked on the Yeezy Seasons 1 and 2 shows, and has a reputation for being a divisive character, which also had models standing in rows in silence.
Though prior to this particular show there was really only mystery: Where was it going to take place? The location itself was kept secret until moments before the show, with West's team sending out notices in the morning for guests to meet up in Manhattan to take a bus together to an undisclosed location.
From there, speculation began in regards to where exactly the show would be. Given how far in advance everyone had to arrive for this bus, they knew if was far and almost immediately, Roosevelt Island seemed like a promising guess.
And soon, the island was revealed to be the place where Yeezy Season 4 would all go down. In Four Freedoms Park, to be exact.
Talk then swerved to what sort of theatrics the show would entail, given that it is a four-acre memorial to former President Franklin D. Roosevelt. Prior to this Yeezy event, the other notable event that had taken place there was Hillary Clinton's first rally for her campaign in 2015, so was this Yeezy show about to take a political turn?
Turns out: No.
All West did following the presentation was take one lap around the runway and run into the distance.
It seems, this venue just gave West and his ego enough room to breathe.
So what did we learn today during Yeezy Season 4? Well, in terms of clothes, we learned just how talented West is at sticking to an unwavering aesthetic. Other than that, that he really loves attention.