Dabney Montgomery and Joe Kellwood, 2 remarkable World War II veterans, have died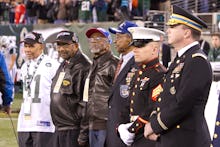 Dabney Montgomery, one of the legendary Tuskegee Airmen who formed the first group of black aviators to serve in the United States armed forces, died Saturday at age 93. Two days later, on Monday, Navajo code talker Joe Hosteen Kellwood died in Arizona at age 95.
It's unlikely these two men ever crossed paths in real life, but both embodied remarkable stories of resilience and the challenges faced by soldiers of color during the Second World War. 
Hosteen was one of more than 400 Navao people recruited to the Marine Corps in the early 1940s. His function, like that of his fellow Navajo soldiers, was simple: to use their indigenous language as a communications code that enemy Japanese forces could not decipher. 
The code talkers program, as it came to be known, was not recognized publicly by the U.S. government until it was declassified in 1968. As such, the Native Americans who participated did not get the recognition afforded their non-indigenous comrades until much later.
This was not particularly surprising. As with many soldiers of color who served in the early- to mid-20th century, one of the main ironies of Kellwood's life lay in the disconnect between his value on the battlefield and how he was treated back home. CNN reports Kellwood was sent to a school run by the military on an Apache reservation as a child, for example. Instructors there beat him whenever he spoke his native tongue. 
Years later, the language he was punished for using as a child became the main source of his strategic value as a man. At the time, the unique syntax of the Navajo language, and the fact it had no written form, made it an impossible code for the Japanese to crack, and thus an invaluable form of military communication.
Today, there are fewer than 20 code talkers left alive, according to the Navajo Times. Kellwood was eventually awarded the Congressional Silver Medal. He will be buried Thursday at the National Memorial Cemetery of Arizona, just a four-hour drive southwest from Steamboat Canyon, where he was born in 1921.
Dabney Montgomery, who died Saturday, led an equally remarkable life. Born in Selma, Alabama, he served as a ground support crew member for Tuskegee pilots in southern Italy, only to return home to the U.S. following the war and face the daily terrors and indignities of Jim Crow. 
Mere minutes after he received an honorable discharge, for example, Montgomery tried boarding a train from Atlanta to Alabama.
"Before I could get in, a white officer threw up his hand," Montgomery said in an oral history project from the Alliance of Ethics and Art. "'You can't come in this door, boy, you got to go around the back.' That was 10 minutes after I received my honorable discharge."
At home in Selma, Montgomery tried registering to vote, only to be told he needed the signatures of three white men to do so, according to NPR. When he scrounged together the signatures and returned, he was told he needed to own $1,000 worth of property. He did not. He was not permitted to register.
All of this led to his involvement in the bourgeoning civil rights movement. After moving briefly to Harlem in New York City, Montgomery returned home to Selma after witnessing Dr. Martin Luther King Jr.'s protests there in the mid-1960s on television. He eventually became one of King's bodyguards in the city, escorting him as he performed organizing duties there. 
Montgomery later moved back to New York, where he lived out the rest of his days working for the New York City Housing Authority and volunteering.
Both Montgomery and Kellwood's lives are reminders of the contributions soldiers of color have made to the U.S. military over the years — and how their value in battle was rarely matched by how they were treated back home.