Lady Gaga shares "Perfect Illusion" lyrics and cover art ahead of Friday release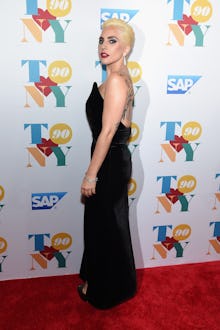 Pop artist Lady Gaga will returns to the music scene Friday when she drops her latest single, "Perfect Illusion." Ahead of the release, Gaga teased the new song on social media, providing glimpses of the song's cover art. The cover is a possible first-look at what the music video might look like, along with another shot tweeted of the singer swinging a microphone over a crowd. 
Gaga also teased out a few potential verses from the new single early on Wednesday, which include: "I don't need eyes to see/ I felt you touchin' me/ High like amphetamine/ Maybe you're just a dream," along with the hashtag, #PerfectIllusion. 
Friday's release will be Gaga's first single since her 2015 Grammy-, Emmy- and Oscar-nominated anthem to sexual assault victims, "Til It Happens To You." However, it could also be the first track off of a fifth studio album for the singer. 
Gaga's next studio album — which still doesn't have a name — has no official release date yet. Speaking about the album in June, longtime collaborator Elton John said he was stunned by what he's heard. 
"I've heard two or three songs from her new record, which she's making with Mark Ronson, and it's absolutely brilliant," John said on a Beats 1 podcast. "So you're gonna be really happy when you hear that later in the year or early next year."