2016 Apple keynote event: Here are all the products we're dying to see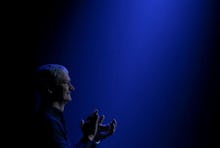 It's the day of the September Apple keynote address, when the biggest tech company in the world is expected to announce the most-hyped phone in the world — the iPhone 7. For tech bloggers, today is like going on a safari. It's basically the Super Bowl.
Apple's keynote kicks off on Wednesday at 1 p.m. Eastern. We already have a pretty good idea of what will be unveiled — new iPhones, MacBooks and an Apple Watch. Apple events are so predictable, you could play a game of Bingo with the repeating jokes (we even made one). 
But there's still room to dream. Here's everything we would like to see hoisted onto the Apple stage on Wednesday. 
iPhone 7 and iPhone 7 Plus 
New iPhones! The cycle of obsolescence cannot be stopped.
Probability: 9.99999/10 
Dual-lens camera
Apple's invitation featured a bokeh effect, hinting that the new iPhones would come equipped with an upgraded lens or dual camera system with a wider aperture and impressive depth-of-field capabilities. I think the invitation looked like a children's dot-art project, but it's unlikely Apple will release kindergarten paint tools. 
Probability: 8/10 
IPX7 water resistance 
This could be the most exciting hidden feature of the iPhone 7 — an answer to countless consumer complaints, but something Apple might never reveal onstage. 
A research analyst reports that the new iPhones will have IPX7 water resistance. This means the iPhone 7 devices will be able to withstand submersion "in up to a meter of water for up to a half an hour," according to Business Insider. If you're devastated over the loss of the headphone jack, your phone can now withstand your sweet tears.
Probability: 7/10
Killing the 16GB model 
Apple is said to be getting rid of its 16GB iPhone model, starting instead at 32GB. Good riddance.
Probability: 9/10 
Premium AirPods 
If Apple is going to kill the headphone jack (RIP, 3.5 millimeter hole), it should also release wireless AirPods with a custom Bluetooth chip — or, wireless headphones that aren't a pain in the ass to pair with your devices. (Unfortunately, they won't be called AirBuds.)
Probability: 6/10
New iPhone colors as black as my soul 
Alongside current color options for rose gold, gold and silver, Apple is rumored to also be releasing the iPhone 7 in matte "dark black" and glossy "piano black," which will replace the space-gray model, according to the Verge.
Probability: 7/10 
Pressure-sensitive home button 
The iPhone 7 may ditch its clickable home button for a design similar to the MacBook's trackpad. By eliminating more access points into the internals of the phone, it would make the device more water-resistant. Also, when will the home button recognize pruney post-shower fingerprints? 
Probability: 7/10 
New and improved MacBook Pro and Air
It's what the people want! 
Probability: 5/10 
An admission that the first-generation Apple Watch was meh 
If Apple is going to release an Apple Watch 2, can a team member please confess that the superfluous wrist candy wasn't as life-changing as they anticipated it to be? Say it. Just say it. We're all thinking it.
Probability: 1/10 
Panning the audience and not having to play Where's Waldo for women 
It would be awesome if both men and women were equally represented in the Apple audience. 
Probability: LOL/10
Tim Cook dancing next to a Steve Jobs hologram? Craig Federighi's eyebrows merging into one onstage? We can dream.
Probability: 9/10 
A surprise musical guest that isn't OneRepublic
Or U2.
Probability: 9/10