Apple Event 2016 live updates: Recap of new products, release dates for iPhone 7 and more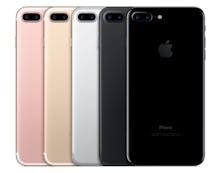 On Wednesday, Apple is unveiling a slew of new products, including the much-anticipated iPhone 7. The event is being held at 10 a.m. Pacific in San Francisco and is being livestreamed online and on Apple TV. 
We've got all the news and updates here live. All times are Eastern.
1:00 p.m.: CEO Tim Cook does "Carpool Karaoke"
The event opens with Tim Cook joining James Corden for "Carpool Karaoke." 
Pharrell joins the car, the three of them wear light-up glasses and sing "Sweet Home Alabama." Cook is originally from Alabama.
— Alexis Kleinman
1:05 p.m.: Apple Music update
Tim Cook begins with an Apple Music update. "It's such a key part of our product experience," Cook said, adding that Apple Music has over 17 million subscribers since launch.
"Apple Music has content that no one else has," Cook said. Taylor Swift, Blake Shelton, Drake and Frank Ocean are listed among the exclusive releases on the platform. — Melanie Ehrenkranz
1:10 p.m.: Nintendo is coming to iPhone
"The momentum for apps in the App Store has never been greater," Cook said, pointing out that there have been 140 billion total app store downloads. Gaming is the "biggest and most popular" category in the App Store, Cook added. But there's been someone missing! Nintendo in the app store. Hell yes. Give us that iPhone, Mario.
Super Mario Run is a new game from Nintendo coming to iOS, Shigeru Miyamoto announced during the keynote. You tap on the screen to make Mario jump, with a longer tap for a higher jump, as the demo demonstrates. The object of the game is to collect as many coins as possible per level. What's different in this game: You can play one-handed. On the subway, while eating a hamburger or while eating an apple, Miyamoto teased. There is also a new battle mode, Toad Rally, which lets you choose an opponent to try and beat their high score. You can play with players around the world. High scores are earned by collecting coins and impressing Toads. The game will release by the 2016 holidays. Oh, and there will be iOS 10 Super Mario stickers. Woot.
Rad Mushroom Kingdom shirt, Phil. — Melanie Ehrenkranz
1:15 p.m.: iWork updates
"Our products can have a tremendous positive impact on teachers and students," Cook said, highlighting Apple's commitment to ConnectED, a grant bringing technology to underserved schools — Apple supports 114 schools, giving each classroom an Apple TV and donating iPads to students and teachers. Melt your cold hearts. 
iWork, Apple's suite of productivity tools, will now allow for real-time collaboration. Whistle while you work together. Sound familiar?
1:28 p.m.: Apple Watch Series 2
Another Apple Watch is coming. 
"Customers love the Apple Watch," Tim Cook said during the keynote, citing surveys for the frankly surprising news. "We are just getting started," Tim Cook said, inviting Apple's Jeff Williams to the stage to talk about what's next for the smartwatch.
And now, a gratuitous gadget video. Run, swim (unlike its predecessor, the updated Apple Watch isn't just splash proof, it's swim proof), chat and breathe with the Apple Watch Series 2. Oh what fun. Aside from being able to take a dip, the Apple Watch S2 has a dual core processor which is up to 50% faster than the predecessor and an entirely new GPU for faster graphics performance. 
Series 2 also has a new display, which is twice as bright as the first Apple Watch — the brightest Apple device display to date. Better to glance at in the sunlight, my dear. 
Perhaps the most exciting new feature is built-in GPS. Finally. 
Apple has also been working on a new material: ceramic. For a "gorgeous, pearl white shine," you can buy a white ceramic Apple Watch Series 2. Let the superfluity shine. There are also new high-fashion bands as part of Apple's collaboration with Hermes.
Apple also teamed up with Nike for an Apple Watch Nike+ a smartwatch with a lightweight, stretchy, perforated band, designed with runners in mind.
— Melanie Ehrenkranz
2:03 p.m.: iPhone 7
It's finally here. "It's the best iPhone that we have ever created," Cook says about the iPhone 7, will likely say again about the iPhone 8. Jony Ive talks about the next-gen iPhone in a sexy video. Mmm metal, mmm shiny, mmm sleek.
Apple's Phil Schiller takes the stage to tell us more about the iPhone 7. He's excited. He hopes we are, too. He reiterates the "beautiful, new refined design" of the device. The jet black device has a high-gloss finish with a stainless steel Apple logo. It is also available in gold, silver, rose gold and a matte finish "black."
The Home button is now pressure-sensitive, like the MacBook Force Touch Trackpad, meaning it's no longer clickable but detects pressure and offers haptic feedback for confirmation. 
It will also be water and dust resistant. Amazing. 
"Everything about it is entirely new," Schiller said about the iPhone 7 and 7 Plus camera. It has optic stabilization, six-element lens, a 1.8 wide aperture lens and a new high-speed sensor. The flash now has four LEDs, which puts out 50% more light at 50% further. "This truly is a supercomputer for photos," Schiller said. Live Photos now have video image stabilization. Cool. 
The iPhone 7 Plus camera gets a second camera, giving it two 12-megapixel cameras built in, one wide-angle and one telephoto. With the latter lens, you can tap and drag to software zoom for a better quality photo than with previous iPhones.
With the dual-lens camera, there's a new portrait style which lets you take photos that automatically capture images with a depth of field effect. Party face in the front, blurry background in the back. Again, this dual-lens camera is only available in the iPhone 7 Plus.
The iPhone 7 and 7 Plus will come equipped with a Retina HD display that's both 25% brighter and just all around better. Another excuse to stare lovingly into your phone screen all damn day.
The iPhone 7 and 7 Plus will have stereo speakers, one at the bottom, and one at the top. They will be twice as loud as their predecessors.
Schiller finally announced that all audio will be connected through the Lightning port. Nice knowing you, headphone jack. Do you hear that? It's the sound of no applause.
The iPhone 7 and 7 Plus EarPods will be included in the box. For those with analog connected devices, the 7 and 7 Plus will come with a Lightning cord adapter. Schiller said the reason Apple removed on from the headphone jack was, wait for it, wait for it: courage. It's too bad you can't read the rest of this liveblog because your eyes rolled back into your head and now you can't see.
Thanks to Apple's courage, we no longer have to be tethered by a cord to our devices. Thanks to its courage, we now have Apple AirPods. Hold them tight, darlings, because these look super easy to lose. You can double tap them to access Siri. They have up to five hours of charging on a single charge. 
They are also equipped with a W1 chip, which sounds like Apple's custom Bluetooth chip solution to the stress of pairing wireless devices. It's yet to be determined if this will be a more efficient option.
Apple's new four-core processor found in the iPhone 7 and 7 Plus is faster, up to 120 times faster than the original iPhone. And it's more efficient. Show off.
"It's the most powerful chip ever in a smartphone," Schiller said. The iPhone 7 and 7 Plus have the longest battery life of any iPhones to date. Juicy, juicy power. Schiller said that iPhone 7 owners can anticipate two more hours of battery life in a day compared to the iPhone 6s, and iPhone 7 Plus owners get an hour longer than the 6s Plus.
"iPhone 7 is the best phone we have ever made," Schiller said. Again. Cue a video of fun people doing fun things with the fun new phone! Wow. Cool. Am I being hypnotized?
The iPhone 7 costs the same as the 6s that it replaces — beginning at $649 —in 32GB, 128GB and 256GB. Jet black only comes in the two latter storage options.
The 7 Plus comes in the same storage options, beginning at $769.
The iPhone 7 and iPhone 7 Plus will both be available for preorder on Sept. 9 and available in stores on Sept. 16. 
iOS 10 will become available on September 13. AirPods will be available in late October for $159. Cook said they will provide a "magical" listening experience. So, does that mean David Blaine will come preinstalled on the iPhone 7?
The surprise musical guest is Sia! And we're out.
  — Melanie Ehrenkranz