This drive-thru salad chain proves that fast food doesn't have to be greasy to be cheap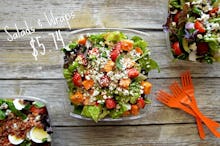 People who say salad is more expensive than fast food, your day of reckoning has arrived. At Salad and Go, a chain of drive-thrus in Arizona, customers can order salads for less than $6 a pop. 
How cheap salads could change Americans' waistlines
By providing a healthy alternative at roughly the same price point as regular fast food, Salad and Go has the potential to transform what Americans are eating without forcing them to abandon the convenience of fast food. 
"We want to take those people who are going to those drive-thru, and say 'Look, there's another option for you.'" 
"There are a lot of fast-casual salad chains out there — we get that," Roushan Christofellis, a former elementary school teacher who founded the chain with her husband in 2013, said in an interview. Paneras, Chipotles, Hale & Hearty, Sweetgreen — fast casual dining was one of the fastest growing segments in the food industry in 2015. These aren't Christofellis' competitors. "We want to take those people who are going to drive-thru, and say 'look, there's another option for you,'" she said.  
When people go out to eat, odds are pretty good they're heading to buy fast food. Eight out of 10 Americans eat fast food monthly, Gallup reported in 2013. According to the Centers for Disease Control and Prevention, one in three kids and teens eats fast food on any given day. 
But there's no rule that says fast food has to be fried or void of nutrition. "We get so many people who say 'ever since you guys opened, we've been coming to you instead of [another fast food chain]'" Christofellis said. "It gives me the goosebumps. ... We get it so often." 
How does Salad and Go keep their menu so affordable? 
"We re-engineered the typical [restaurant] business model," Chistofellis said. At Salad and Go, you won't find booth seating or pithy quotes on the walls, like you'd see at Chipotle. Each of the six locations in the Phoenix region has zero interior seating — everything is take out ordered and served drive-thru window. 
Christofellis said that Salad and Go's food costs are a bit higher than the industry's average; having small, 656-square-foot-buildings helps the company save on operating costs and put more cash into quality ingredients, she said. 
A central distribution center located 45 minutes from all locations also helps defray labor and food costs. "We work directly with farmers, reducing the middlemen," Christofellis said.
These aren't some sad desk salads with limp lettuce and a splash of vinaigrette. Homemade salad dressings, premium ingredients like hard-boiled eggs and fresh proteins make these dishes shine. 
The chain also sells fresh smoothies and snacks like chia pudding (one of Christofellis' favorites). 
With six current locations and two slated to open by the end of 2016, Salad and Go is growing fast. Bobby Shaw, a former Chipotle and McDonald's executive, will serve as Salad and Go's CEO starting at the end of September. 
"What's really cool is, theres so much demand out there," Christofellis said, noting the Facebook page gets a lot of love from it's 33,000 fans. Some posts rack up thousands of likes and hundreds of shares. 
And at the drive-thrus, lines wrap around the corner but people keep coming back. "I think [customers] see, we're all in this together. We can show the restaurant industry that great tasting food can be convenient and it can be affordable," she said.