The House just passed an act giving sexual assault survivors a bill of rights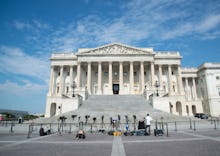 An act that would reform the way the criminal justice system deals with sexual assault is on its way to President Barack Obama's desk after a unanimous vote from the House of Representatives on Tuesday.
According to the Hill, the bipartisan legislation is known as the Survivors' Bill of Rights Act and would guarantee sexual assault victims' access to rape kits and ensure forensic labs won't destroy them. 
The Senate passed a companion bill introduced by New Hampshire Sen. Jeanne Shaheen in May, to the same overwhelming support. Founder and president of the civil rights nonprofit Rise, Amanda Nguyen, has been working closely with legislators on both bills to establish justice for sexual assault survivors everywhere — including herself.
"I can't wait for the day I can write to the forensic lab and say, 'This is the law,' and I will no longer need to do this," Nguyen — who has had to call a forensic lab every six months to "extend preservation" of her rape kit — told People. "You can't destroy my rape kit anymore – you can't destroy anybody's."
Creating accountability for testing rape kits has been a huge part of advocates' initiatives to streamline the investigation of assault cases and prevent future incidents of sexual assault. 
Last month, a group called Test400K sent every governor in the United States a standard rape kit to encourage them to implement systems to expedite the testing of the country's more than 400,000 backlogged kits. 
California Rep. Zoe Lofgren, who sponsored the House bill along with fellow state Rep. Mimi Walters, said in a press release, "Today's vote to overwhelmingly pass the Survivors' Bill of Rights Act means we are much closer to ensuring victims of sexual assault have meaningful access to justice."